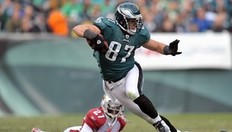 Normally, I would keep each position group separately.  But, because the productivity of these two units go hand in hand, I have decided to discuss them together.  The units I'm talking about are the Eagles' tight ends and offensive lines.
At the beginning of the 2011 season, Philly's offensive line was a discombobulated unit.  Honestly, to consider them a unit would have been a lie.
There was rookie center and a free agent right guard manning the position until a rookie 1st round pick was ready to take over.  The Eagles left guard was moved to right tackle causing a free agent acquisition to take his spot.
In addition to all of this, these men had to learn the new O-line coach's scheme with very little time.  In order to prevent total mayhem, the Eagle's tight ends were asked to help more with the blocking, taking them out of the passing game.
As the season progressed, the Eagles O-line continued to improve which allowed the tight ends to be more involved in the passing game.  What began as one of the Philly's biggest question marks turned into one of their areas of strength, finishing the season 10th in sacks allowed and 5th in rushing yards.
Here's a look at the tight ends and offensive linemen currently on the Eagles' roster:
Tight Ends
Brent Celek– Although he started off slow statistically, Celek actually had a fairly decent year.  Because of his success in 2009, the expectations are high for the former Cincinnati Bearcat.  2011 wasn't bad (62 rec.,811 yds, 5 TDs), but if the O-line stays intact he could be even more productive next season.
Clay Harbor-Harbor's main strength is special teams.  I would like to see him more involved in the passing game and give the Eagles a 2 TE threat at times.
Brett Brackett– An undrafted free agent in 2011, thePennState graduate spent the first half of the season inFlorida as a member ofMiami's andJacksonville's practice squads. Signed to the Eagles practice squad in November, Brackett must prove he's more than just a camp body.
Offensive Line
Jason Peters– Patience is virtue because after his first year as an Eagle, I wanted Peters gone.  I thought he was too penalty prone and overhyped. Three Pro Bowls later (a total of five consecutive), it's hard for anyone to argue that Peters isn't one of the top 5 left tackles in football.
Evan Mathis– Including his last two years inCincinnati, Mathis has not been credited for allowing a sack for three consecutive seasons.  How the Bengals let him go, I have no clue.  Keeping him in Philly should be the Eagles' first priority this offseason.
Jason Kelce– While it didn't seem that Kelce completed earned a starting spot, Coach Mudd was adamant about sticking with him.  The former Bearcat became just the 16th center to start all 16 games in his rookie season.  There's a good chance Kelce will be the Eagles center for many years to come.
Danny Watkins– Unlike Kelce, Watkins didn't start from the beginning. The 2011 1st round pick struggled with adjusting to the NFL.  After Week 4, Watkins was given the starting role and hasn't looked back.  With a full offseason, he should be much improved.
Todd Herremans– Because he was drafted as a tackle, I wasn't too concerned when the Eagles moved Herremans from left guard to right tackle.  He wasn't perfect, but it should be understood that he didn't switch positions until the week before the regular season.  He needs to be kept there.
Winston Justice– After struggling to return from a knee injury, Justice may very well be released to save cap money.  Of course, this depends on what the Eagles do with Mathis.  If he doesn't return, Herremans could be moved back to guard and Justice is the starting right tackle again.  Let's hope the Eagles and Mathis work something out.
King Dunlap– At one point, I would've thought there is no way Dunlap is re-signed by Philly.  I would not completely rule that out.  Reserve offensive tackles that can play both sides are not easy to find.  Especially ones that are also willing to play guard.
Jamaal Jackson– After virtually having no chance of regaining his starting role at center, the writing's on the wall for Mr. Jackson in Philly.  His release will add almost $2 million in cap space.
Julian Vandervelde– The 5th round pick fromIowa only dressed for one game his rookie season.  I doubt he'll be the starting left guard anytime soon, but with a full offseason he can prove he'll provide quality depth.
Dallas Reynolds– It seems as if Reynolds has been on and off the Eagles roster forever.  The 2009 undrafted free agent from BYU has spend only one week on an active roster.  The is some reason the Philly keeps him around.
D.J. Jones– Jones was claimed off waivers after the Baltimore Ravens released him.  Undrafted in 2011 byMiami, the former Nebraska Cornhusker could very well be Dunlap's replacement as a backup tackle.
Zane Taylor– FromUtahSt., Taylor was an undrafted 2011 free agent initially signed by the New York Jets.  After spending part of the regular season onTampaBay's practice squad, he ended up with the Eagles practice squad in late November.  Re-signed in January,Taylor could challenge Reynolds to be Kelce's backup center.
2012 Forecast
Outside of re-sign Mathis, there isn't any major moves the Eagles must make with their offensive line.  At one point, I would have advocated pursuingNew Orleans' Carl Nicks, but he's going to cost too much.
I could see Andy Reid addressing the offensive line in the mid to later rounds of the draft.  Guard Lucas Nix fromPittsburghcould be a good fit.  Other than that, don't expect too many changes.
At tight end, Celek and Harbor are likely going to be their two guys.  I've said previously that if the Eagles are going to keep only two tight ends, their next fullback needs to be a hybrid FB/TE.  Because of this,Temple's Evan Rodriguez should get a lot of attention during the upcoming weeks.
If the Eagles keep their O-line intact and make a few minor additions, the tight end and offensive line units could be very solid in 2012.