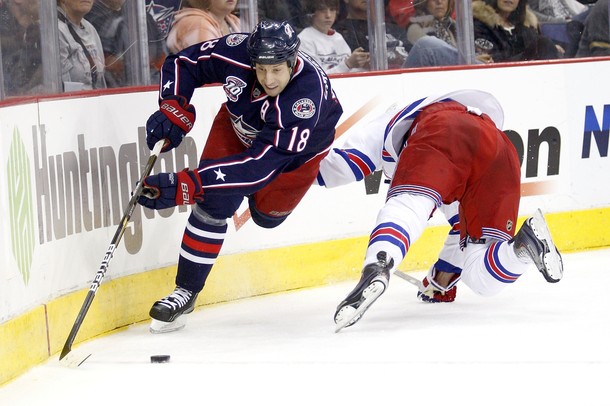 Continuing with the Western Conference, I am taking a look at all of the former NHL players for the Philadelphia Flyers who are still in the league today, and are currently playing for a team in the Central Division.
Chicago Blackhawks (19-14-3, 7th in Western Conference and 14th in NHL)
Despite having blown up their roster after winning the 2010 Stanley Cup to fit under the salary cap, the Blackhawks haven't completely lost the edge that has made them so tough to play against in the past. Patrick Sharp (02-06) has been absolutely phenomenal, producing 18 goals and 34 points in 35 games played while on the top line with captain Jonathan Toews. Sharp is currently out with an ankle sprain but should return before the end of the year.
Ryan Potulny (05-08) was picked up this offseason as cheap labor by the 'Hawks, but has only dressed in 3 games, spending the rest of his time with their AHL affiliate, the Rockford IceHogs. I'm not quite sure what an IceHog is (a variation of a SweatHog?), but Potulny is a decent fourth liner if he ever gets a call-up.
Columbus Blue Jackets (17-14-3, 12th in Western Conference and 20th in NHL)
The Blue Jackets have been suffering all season from subpar goaltending (like we don't know how that feels). Former Flyer R.J. Umberger (05-08) has continued his career as a top six forward, playing left wing to Derick Brassard and Jake Voracek this season as opposed to center. His 10 goals and 14 assists are on pace to just surpass his output from last year, with a possible 57 points.
There are no former Flyers on the Detroit Redwings, Nashville Predators, or St. Louis Blues.