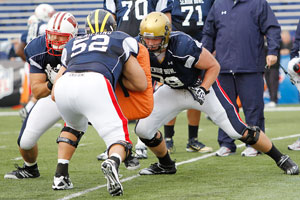 Have the Eagles found another Jon Runyan in Wisconsin offensive tackle Gabe Carimi?  He's big, mean and motivated.  I watched Carimi work for the first two days in Mobile, Alabama for the Senior Bowl and he definitely looks like a right tackle, but I don't think they can afford to use a first round pick on a tackle.
They need to use their first round pick on a defensive player,  maybe a cornerback, maybe a dominant defensive tackle, or maybe a linebacker.
Another problem with drafting a guy like Carimi and using him on the right side is that in Philadelphia the right tackle is really the left tackle because Michael Vick is lefthanded therefore the right tackle is protecting his blindside.  Carimi doesn't look like he has the quick feet and speed to deal with the lightning fast defensive ends and linebackers coming around the corner on third down in the NFL.
Mike Mayock of NFL Network sees Carimi as a right tackle who is a better run blocker than a pass blocker.  Are we going to run the ball a lot here in Phialdelphia?  Carimi is considered one of the top three offensive tackles with Colorado's Nate Solder, who is considered the best and he's followed by Boston College's Anthony Castonzo.
These guys are all 6'7″ and I don't think all of them are going to make it.  That height means they're going to have to bend their knees and backs to get low enough to block many of the lightning quick defensive ends that are coming into the game.
"The first two [Solder and Castonzo] move a little bit better than Carimi; Carimi's more of a thug, which I mean in a positive sense," Mayock said. "He doesn't have the footwork of the other two . . . He could play left, but he's probably more of a right tackle. He's a little bit like a Jon Runyan; he's got a little bit of nasty to him. A little bit better run blocker than the other two. But if you put the Iowa tape on, he did a great job against [Adrian] Clayborn, without help. He did really well against one of the premier pass rushers in college football."
As I said, I'm not as high on Carimi as Mayock and others.  You can't have a slow-footed guy protecting Michael Vick's blindside.  I liked what I saw of Alabama's James Carpenter.  He's a big athlete who can move his feet and he has tremendous power.
I don't know much of his history of playing the left tackle position but he looks like a keeper to me.  He's being pegged to go in the sixth or seventh round but I think he will move up to at least the third round because of the way he was dominating.  I would rather the Birds grabbed Carpenter in the third or fourth round rather than Carimi in the first.
Outside linebacker Von Miller owned the day by dominating the pass rush drills with his speed around the corner.  He's probably made himself a number one pick with the day he had yesterday.  He's going to be gone in the first round, so the Eagles will have no chance to grab him.
ESPN's Todd McShay says Jake Locker made a big improvement in his second day of working out at the Senior Bowl.  I thought he threw the ball better, but Locker needs a good quarterback coach to work with him.  His footwork is poor when he throws the ball because he's used to taking off and running with the football.
TCU's Andy Dalton doesn't have a strong arm but he has great accuracy with his throws.  Dalton will fit in well with a lot of these west coast offense teams.
Quarterback Christian Ponder of Florda State has struggled.  His throws are erratic and the accuracy is horrible.
Heisman Trophy winner Cam Newton has decided to work out at a small gym in San Diego.  NFL Pro personnel people are suspicious of why Newton has decided to workout there rather than at some of the big workout facilities that focus on combine type workouts all year long.