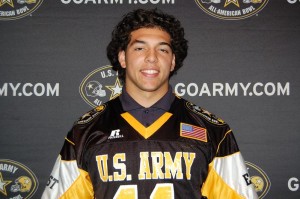 Two Blue Chip, South Jersey athletes Anthony Sarao (Holy Spirit) and Bill Belton (Winslow) will sign their letters of intent for USC and Penn State respectively on today's National Signing Day.  Both earned early attention during and after their junior seasons, both did have offers from in-state upstart, Rutgers, both have decommitted from schools that have had coaching changes.  Having seen both players in person and on film, I am sure that both will be significant contributors on the next level.
Having played quarterback his entire senior year, Bill Belton was able to show off the full gamut of his athletic skills.  When not throwing to his three-star receiver Devonte Waugh, the former Pitt Panther commit cut and sliced through defenses to buy time, or, when the opportunity presented itself, busted out for game-breaking runs.  From a distance, without even being able to distinguish his jersey number, one only needs to see Bill Belton make one razor-sharp cut to know that he is an elite FBS prospect.
The athlete from Winslow Township figures to be a slot receiver on the next level.  His hands were more on display during his junior year when he played more wide receiver.  Needless to say, the hands did not disappoint.  During camps Belton has been impossible to jam off of the line, and his change of direction ability allows him to get more than adequate separation.  He has good but not great speed for the top level, but Belton has more than enough tools to keep smiles on faces in Happy Valley.
Linebacker Anthony Sarao will likely fit in as a Will linebacker in Defensive Coordinator Monte Kiffin's scheme at USC.  In camps, he has shown that he can run with any running back in the country, as his greatest assets are his speed and agility.  He closes ground extremely quickly when attacking the line of scrimmage against the run.
Video of Sarao is full of plays where he chases down ball carriers regardless of the difficulty of his pursuit angle.  Sarao will need additional bulk to reach his full potential on the next level, but if the tenacity and will that he showed while dealing with ankle injuries early this season are any clue, it will only be a matter of time until the requisite size is added.
Troy will welcome the Holy Spirit defender with open arms as he is an important addition to a very thin linebacker corps.  Sarao, a US Army All American, is playing in the USA vs. World under 19 all-star game tonight (Wednesday) at 8:30pm EST which will be shown live on Fox College Sports Central.