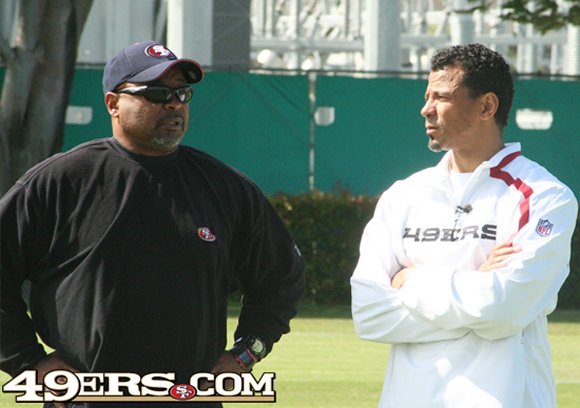 I had told you that the key hire on the Eagles defensive staff would have to be someone with a boat load of experience and the Birds got their man in long-time NFL secondary coach and defensive coordinator Johnnie Lynn.   Yesterday, I informed you about Lynn, who I've known since college, he was at UCLA and I was at USC.
He has been officially named by the Eagles as their new secondary/cornerbacks coach.  I haven't talked to him yet, but Johnnie was always a no nonsense guy, who demanded the most of his own ability and is sure to do the same with his players.
I like the fact that Andy Reid is breaking up the secondary from a coaching standpoint.  He's got Mike Zordich coaching the safeties and Lynn coaching the cornerbacks.  The things they ask a corner to do nowadays are much different from what they ask a safety to do.  I know Reid saw the success the Packers had in their secondary by assigning a coach to the corners and another corner to the safeties.
Lynn is coming to Philadelphia after spending five-years in San Francisco with the 49ers, as their secondary coach.  He had the title of special assistant to the head coach in 2009 and 2010.   Lynn spent seven years in New York working for the Giants from 1997-2003.
He was the defensive coordinator for the rival Giants in 2002 and 2003.  If you ask me, his experience as a defensive coordinator is the reason that Reid brought him in here for this position.  Reid might not admit it in public but he knows new defensive coordinator Juan Castillo will need experience around him when they go to battle this season.
Lynn has been calling coverages during game for nearly a decade now.  He knows about the flow of the game and the tendencies of the offensive coordinators around the NFL.  I could see him playing a major part in designing and running of the defense's pass coverage.
It will also be his job to develop second-year cornerback Trevard Lindley who is probably the most talented of the Eagles young cornerbacks.  The Birds need him to start next season and play well.  To put in mildly, Lynn has got his work cut out for him.