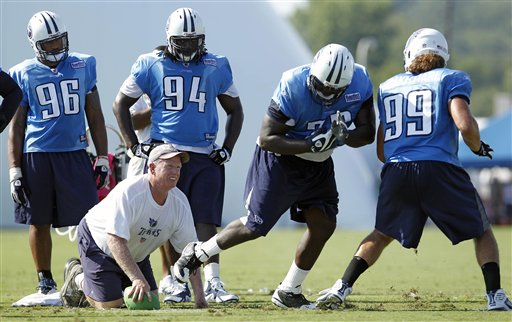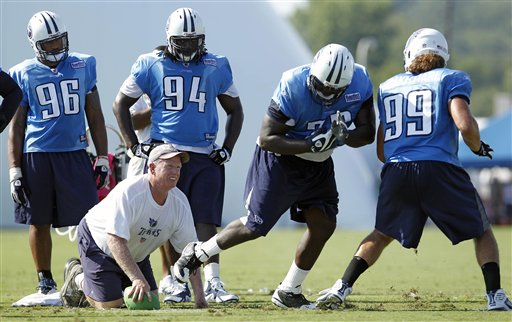 Eagles new defensive coordinator Juan Castillo was talking about things he learned from Jon Gruden that pertained to studying an opponent on film , when Philly.com's Les Bowen joked, "Is that what you learned from him when he was in town over the weekend".  Everybody broke out into laughter.
It was good times today when the new assistant coaches were introduced to the media.  The smiles came easy and the guards were down.  Of course nobody was giving up 31 touchdown passes or having the worst red zone defense in the last 25 years.  Pass rushers weren't in Michael Vick's face and nobody was saying anything negative.
It was intro day and the new assistant coaches were giving their philosophies and talking about what they hoped to do here in Philadelphia.
There were more media people than new defensive line coach Jim Washburn was used to.  Immediately he said, "There more reporters here than ever showed up in Tennessee".  He hasn't seen anything yet. Wait until the defensive line fails to put pressure on the quarterback in a big loss.
It was a decent crowd, with one camera from the television stations were represented.  was an auditorium of media people and assistant coaches.  All of them were surrounded by five or six reporters with microphones, cameras and you name it.  They were all telling their story so to speak.
Washburn explained how he developed his method of teaching defensive linemen.  He talked about former Dallas Cowboys head coach Jimmy Johnson and the style of play that the Hurricane defenses played at the University of Miami during that stretch when they were fighting for a National Championship each year.
He talked about how that Miami defensive team turned defensive tackles Warren Sapp and Cortez Kennedy loose to fly off the line at the snap of the ball.  Those defensive tackles and defensive ends lived in the opposing backfield and dominated the line of scrimmage.
I knew what he was talking about.  Before those guys dominated in that defense, it was former Eagles defensive tackle Jerome Brown, who Sapp and Kennedy came after at the U.
Washburn his linemen don't have to be huge, but they must be athletic.  He wants to get off the ball and force the offensive to react to them.
Castillo talked about how he had Washburn explain his system to the other coaches, new safety coach Mike Zordich and new linebacker coach Mike Caldwell.   "They attack and react rather than read and react", according to Castillo.  The Eagles defense will attempt again like they tried to a year ago, to get away from a lot of blitzing and rely on the defensive line to get to the quarterback.
New secondary/cornerbacks coach Johnnie Lynn loves to be here with a winning organization like the Eagles.  He says the Birds will continue to
play many of the pass coverages that they've been playing since Reid has been here but they will try to do them better.
He said they really haven't had time to sit down and start scheming.
Zordich and Caldwell were in the auditorium giving their take on things, but you and I know that they're going to have follow the leadership of Castillo and the veteran coaches.  They'll be able to add little touches for the specific position they're coaching but they'll be following orders for the most part.
The only offensive coach there was veteran offensive line coach Howard Mudd, who says he will have to adjust to a different offensive system than the one he operated in Indianapolis, where they gave Peyton Manning the freedom to change any play at the line of scrimmage.  But he's willing to do whatever it takes to get the job done.  Mudd doesn't think it will be a major adjustment for him.
I'll have more for you later.