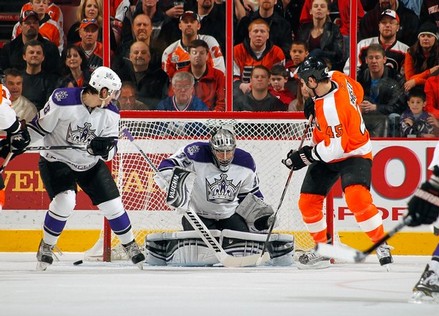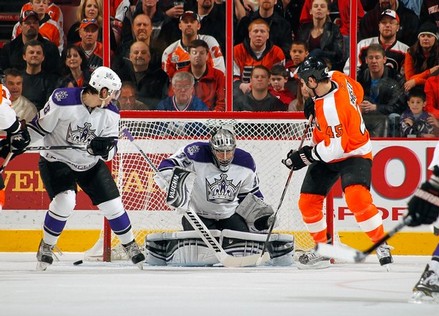 "You're not gonna score five goals in each game for 82 games," said Claude Giroux. The Flyers, unfortunately, couldn't score any during tonight's 1-0 loss to the Los Angeles Kings. It was a much more interesting game to watch than Thursday's tilt against the Carolina Hurricanes, but with different results.
A lot of that has to do with the line changes that coach Peter Laviolette implemented. While the LBH line stayed intact, Lavi threw centers Mike Richards, Jeff Carter, and Giroux on one line while winger Andreas Nodl centered James Van Riemsdyk and Dan Carcillo.
It didn't work.
"We haven't generated as many chances as I'd like and although it wasn't a long-term plan, it was just to give a different look," said Laviolette. "We had probably close to twenty quality chances but couldn't solve the goaltending."
Combining the team's top centers on one line doesn't make much sense, even as a temporary experiment. By the third period, the lines were broken up again and Lavi began double-shifting Nodl and Ville Leino to try and spark some offense.
When asked what he thought the biggest issue was, Chris Pronger responded, "Probably consistency. Within each period, we seemed like we had moments where we dominated and moments where we didn't. The game is sixty minutes and you've got to be prepared for sixty minutes. We had a lot of great chances… including a couple [Quick] didn't even know he stopped."
Jonathan Quick, in net for the Kings, stopped all forty shots he faced. He wasn't spectacular, but he got the job done. At the other end of the ice, Sergei Bobrovsky had a great game, despite the loss. The lone goal from Drew Doughty was a quick wrister from about ten feet out that he lost track of.
His east-west stonewalling of Wayne Simmonds in the second period was a huge boost for the team, though, and had the crowd roaring. Bob will likely start in net on Tuesday, as the team attempts to solve the Tampa Bay Lightning for their last meeting of the regular season.
The game wasn't as scrappy as the Penguins-Islanders wrestling tournament from Friday, but Dan Carcillo fought Kyle Clifford and Jody Shelley took on fellow heavyweight Kevin Westgarth. There was a scary moment in the third period when Kings centermen Jarret Stoll boarded Pronger from behind.
Enraged, Pronger got up and shoved him down to the ice, towering over him with a stance that would make most men soil themselves. Pronger was penalized for roughing while no call was made against Stoll. In this instance, the fact that Pronger wasn't hurt as well as his reputation were likely the reasons Stoll got off scott-free, even though both are poor excuses.
"He got me from behind," said Pronger. "I knew he was coming, he told me he was coming, but there was nowhere I could go. I had my stick on the puck so I couldn't put my hands up to protect myself… I knew he was coming already, didn't mean he's got to hit me from behind."
It's difficult to say if this was a case of the Flyers looking ahead to Tuesday or if they just didn't get the bounces they wanted. Every team loses a game here or there, although they missed four opportunities on the powerplay to tie things up. In any event, they're looking forward to the Lightning now.
For post game video from tonight's loss, follow me on twitter (@JoshJanet).