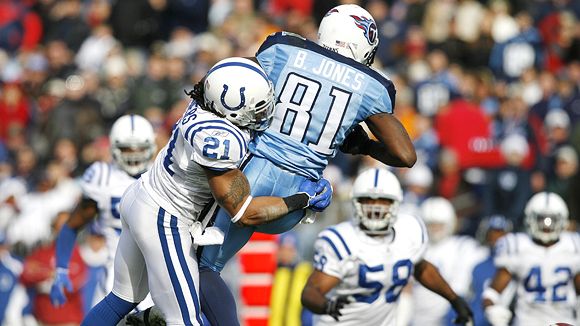 At times they line up in centerfield of the defense about 10 to 15 yards from the line of scrimmage and run full speed like lazers toward the football. As they approach the ball carrier or wide receiver, many times they will leave their feet and throw their bodies at the ball carrier.
They play the game as if they don't care anything about their bodies. These guys are asked to blitz full speed up the middle, wide open with the knowledge that there's a possibility of a muscle bound 330-pound offensive linemen picking them up. You can't play the position with any fear.
The collisions that Pro Bowl safeties Troy Polamalu, Ed Reed and Bob Sanders are involved in are as vicious as any you will ever see. Many times the running back or wide receiver isn't able to get back on their feet after the bodies collide, but many times the hitter is just as injured as their target.
Sanders, who was released by the Indianapolis Colts this week has been able to play in only 9 games in the last three years. He's had all types of injuries to nearly every part of his body. The former NFL Defensive Player of the Year is only 30-years old, but his body may be too banged up to stay healthy again.
Which team will give him a shot? I imagine quite a few would be willing with an incentive-laden contract. I don't think the Eagles will be the team to step forward even though there is a possibility that they could be. They do like that injury discount.
Back to these safeties, Polamalu missed a few games this season and labored through many of the others on his way to the Super
Bowl and Defensive Player Of the Year award. I didn't think he deserved the award this year, but I thought he may have deserved it a year or two in the past. His body is beaten up and he's going to need to get his legs healthy again before he can play like he has in the past.
In the Super Bowl he just couldn't run and was exposed by the Packers in pass coverage. He looked old in the playoffs and in the Super Bowl.
Baltimore's Reed doesn't play as violent a game as the other two. He's more of a ball hawk as compared to being a vicious hitter like the other two safeties, but he missed quite a few games before coming back to lead the league in interceptions. Reed has talked about retiring because of the way he's beaten up his body up with vicious collisions.
I think the safety position is getting to be one of the most demanding positions because they get the chance to run and get to top speed before hitting the opponent. It makes the collision much more violent and taxing on the body.
We haven't even said anything about the concussions which have become a major issue.
This is something to keep an eye on going forward. How long can a good safety stay healthy? It may be that the safeties will start being looked at like running backs?