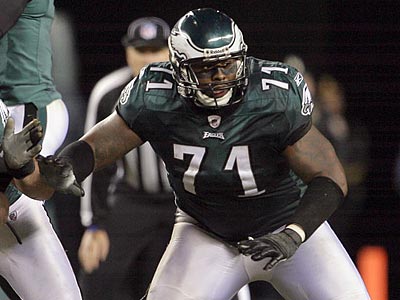 Philadelphia Eagle Head Coach Andy Reid is a strong believer that football games are won and lost at the line of scrimmage. He's absolutely right
Unfortunately, Reid's current offensive line isn't quite built to win at this point. One key to a successful O-line is stability. The more all five lineman play together, the more likely great things will happen.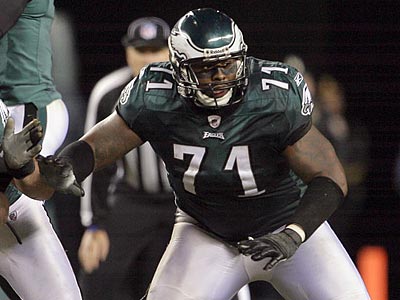 The Eagles line has become quite the revolving door ever since their NFC Championship loss to the Arizona Cardinals in January 2009.
That was the last game for longtime starters Tra Thomas and Jon Runyan. The left tackle position was replaced by a perennial Pro Bowler, but the Eagles ultimate failure was investing money, time and faith in two brothers who both go by the name of S-dot-Andrews.
Now that both of those guys are gone and there will be no more "getting my Michael Phelps on" in Philly, let's look at the Eagles offensive line going forward.
JASON PETERS
When the Eagles traded with the Buffalo Bills and gave him a $60 million contract, I thought it was a brilliant move to address protecting Donovan McNabb's blindside.
Unfortunately, Peters begin the 2009 season looking like he was going to be a long term bust. There was a knee injury and an abundance of penalties. Despite two Pro Bowl selections, Peters was a disappointment to me.
I thought the Eagles may have been better off keeping the first round pick they gave up for him and drafted Michael Oher from Mississippi.
2010 started off for Peters in the same disappointing fashion. But, after missing two games due to a knee surgery, Peters started to resemble 'the best left tackle in the NFL' as Coach Reid stated.
Look for Peters to have a productive 2011 season. Either way, he's not going anywhere anytime soon.
TODD HERREMANS
Herremans has quietly become the most consistent member of the Eagles O-line. In 2009, his availability was a huge concern due to a stress reaction to his foot.
Fortunately, he overcame that after missing the first for games of that season and hasn't missed a game since.
Peters and Herremans form and strong tandem on the left side of the line.
JAMAAL JACKSON
When it rains, it pours. Jackson started 69 consecutive games when he tore his ACL in Week 16 of 2009. There were concerns about his knee being fully healed when he started the season opener in 2010.
Jackson's luck went south again as he tore his triceps, putting him on injured reserve again.
Even if Jackson begins 2011 100% healthy, he's now on the wrong side of 30 and it's quite possible his replacement has already been chosen.
MIKE MCGLYNN
McGlynn stepped in admirably for Jackson at center for the 2010 season. The 2008 fourth round pick out of the Univ. of Pittsburgh spent his first two years on the sidelines.
He's now proven that he can play in the NFL. The Eagles have plenty of options with him going into 2011.
They can have him battle Jackson for the starting center spot. They may feel comfortable moving over to guard. Depending on the draft outcome, McGlynn could very well provide quality depth.
WINSTON JUSTICE
In 2006, prior to the NFL draft, many predicted USC's Justice would be the Eagles first round pick and Tra Thomas' eventual replacement at left tackle.
As we know Broderick Bunkley was selected in the first round and Justice 'slipped' to the Eagles in the second. In 2007, when Thomas was forced to miss a game against the Giants, Osi Umenyiora's performance immediately had Justice labeled as a bust.
Justice eventually moved to right tackle after Shawn Andrews' back problems persisted. Justice played well enough to earn an extension during the 2009 season.
After struggling towards the end of this past season, Justice had his knee cleaned out a few weeks ago. Let's hope that leads to continued improvement in 2011.
NICK COLE
Cole started six games at right guard in 2010 and is one of the reasons there is a huge need at the position.
The last report on the pending free agent is a rumor that he may end up with the Green Bay Packers.
MAX JEAN-GILLES
Jean-Gilles was given an original pick (4th round) restricted tender the other day, but don't expect him to be named the starter at right guard in 2011.
The Univ. of Georgia product's strength is run blocking. His talent is being wasted on a pass happy team like the Eagles.
Once the CBA is resolved, teams like Minnesota, Tennessee or Atlanta that like to run the ball may inquire about his services.
A.Q. SHIPLEY
At one point last off season, I thought Shipley had a chance to challenge for the starting center position in Philly. He spent the entire 2010 season on the practice squad.
The biggest obstacle for Shipley to overcome is his height (6'1") and arm length.
REGGIE WELLS
I just have one question for the Eagles regarding Wells. If you pride yourself in finding late round gems, wouldn't it have been wise to keep your 2011 6th round pick.
Wells dressed for only eight games in 2010, starting one. He was not re-signed and is now an unrestricted free agent.
DALLAS REYNOLDS
Like A.Q. Shipley, Reynolds spent the entire 2010 season on the practice squad. At 6'4", 320lbs he has ideal size for an Andy Reid type of offensive lineman.
At BYU, Reynolds played all five O-line positions at one point or another. His versatility is definitely what keeps him getting extra looks at the NovaCare Complex.
FENUKI TUPOU
A fifth round pick out of Oregon, Tupou has yet to be part of a regular season roster. He spent his rookie season on IR and last season on the practice squad.
He was signed after the Eagles were eliminated from the playoffs. This may be his last chance at wearing midnight green in September.
AUSTIN HOWARD
There was a lot of positive talk about Howard during training camp last year. He eventually became the only undrafted rookie to make the final roster.
Look for Howard to make huge strides in his second season and earn more playing time.
KING DUNLAP
Dunlap started five games 2010, two at left tackle and three at right. Each time made me wish for a speedy recovery for Justice or Peters.
Dunlap's biggest challenge in 2011 will be the progress of Austin Howard.
2011 Forecast
Addressing the right guard position is a top priority for the Eagles this off season. There won't be any great options when free agency finally begins. Therefore, the Eagles will address this need via draft.
Look for the Eagles to draft someone in the first two days. It could be the first round (Mike Pouncey?), the second (Marcus Cannon?) or possibly the third (John Moffitt?).
The Eagles could slide Mike McGlynn over to right guard, but they can't afford to rely on Jamaal Jackson's health at this point.
In addition to right guard, don't be surprised if the Eagles draft another offensive lineman in the mid to late rounds.