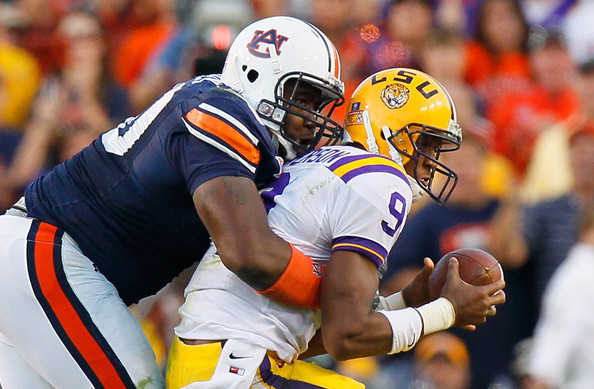 The University of Auburn held their Pro Day workouts on Tuesday, as all eyes turned to Cam Newton.
While by all reports Newton was impressive, it was another player that worked out that Eagles fans may have an interest in. I'm talking about Auburn defensive tackle Nick Fairley.
Once projected to be the first overall pick in the draft, Fairley has started to slip down some scouts boards. He is currently ranked 6th on ESPN's big board.
Despite slipping, Fairley turned in an impressive performance on Tuesday by all accounts. Fairley weighed in at 297 pounds, which is 6 more then he weighed at the combine. While the added weight is good, it is even better if it does not effect his speed, which according to ESPN's Todd McShay, it did not. During Fairley's workout, McShay commented that "297 pound men should not move like Fairley."
Fairley is a good runner stopper, but what really makes him shine is some pass rushing ability. Some scouts have called him one of the best pure pass rushers to come out of the NFL in years. He was impossible to stop in college when being single-blocked, and was forced to be double teamed. In addition to being a physical force, Fairley also has the football smarts to make big plays. He is great at recognizing screens, and even had an interception last season.
In addition to having a head for the game, Fairley has great mechanics. His foot work and ability to push down the hands of opposing
offensive line man help him to get into the backfield at a consistent basis. Fairley can also be a hott head at times, and has shown making a bone headed play or personal foulis not beyond him.
Calling it one of the best defensive line workouts he has ever seen, McShay said that Fairley has almost certainly secured himself as a top 10 pick.
How does any of this relate to the Eagles?
It is no secret that quarterback Kevin Kolb is going to be perhaps the most sought after quarterback this off season. Teams such as the San Francisco 49ers, Arizona Cardinals, and Tennessee Titans all need quarterbacks, and all have a pick in the top 10. Multiple reports have already linked Kolb to the Cardinals.
Kolb's asking price will only rise as it gets closer to the draft, assuming trades are allowed to be made. Once a bidding war starts, who knows what the Eagles will wind up with for the former 2nd round pick. Plenty of people in the media feel that the Cardinals could be willing to part with the 5th overall pick for Kolb. Plus, with a possible rookie salary scale implemented in the new CBA, the Eagles might not have to pay the big money to the 5th overall pick they would have in recent years.
Fairley would be a huge addition to the Eagles defensive line. Having a player bust up the middle and get into a quarterbacks face is the answer to any problem a defense is having. If Fairley is everything the scouts say he is, he will make the Eagles secondary look a lot better then Brodrick Bunkley was able to make them look.
If Fairley starts to fall, and cornerback Patrick Peterson is already off the board, don't be surprised to see the Eagles and Cardinals get serious about making a deal.