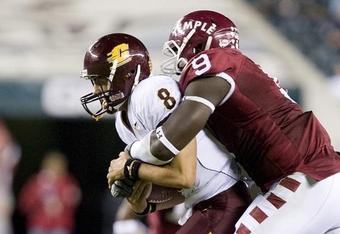 My new Eagles 2011 Mock Draft is based on some trades and of course that is taking for granted that the Collective Bargaining Agreement will get done at least a week or two prior to this year's NFL draft.
I have the Eagles acquiring some new picks based on a huge Draft-Day trade between the Philadelphia Eagles and the Seattle Seahawks. In this deal I have the Birds trading backup quarterback Kevin Kolb, along with right tackle Winston Justice and defensive tackle Mike Patterson to the Seahawks.
I
n return the Eagles would get Seattle's first round draft pick, (#25 Overall), their 4th round pick (#97 Overall) and outside linebacker Aaron Curry, who was a first round pick and 4th Overall in the 2009 NFL draft.
I think this deal makes sense for both teams because Seattle needs a quarterback, right tackle and a defensive tackle. Justice and Patterson were each ecruited and coached by Seahawks head coach Pete Carroll during his time at the University of Southern California.
It would be a great deal for the Birds because they would get two draft picks plus an outside linebacker in Curry, who has the potential to be a perennial Pro Bowler. He's got great size at 6'2″ and 245 pounds, and great athleticism as well.
This is what I would like to see the Eagles do with those draft picks.
1st Rd (#23) Gabe Carimi, OT, Wisconsin….. He would take Justice's spot at right tackle.
1st Rd (#25) Muhammad Wilkerson, DT, Temple…. He would take Patterson's spot.
2nd Rd (#55) Danny Watkins, G, Baylor …. He would compete for right guard position.
3rd Rd (#86) Ras I-Dowling, CB, Virginia… He would compete at right cornerback.
4th Rd (#97) Quan Sturdivant, MLB, UNC….. He can play inside or outside linebacker.
4th Rd (#104) CB Shareece Wright, CB, USC He would compete for nickel job & return kicks.
4th Rd (#120) DE Greg Romeus, DE, Pittsburgh…. He would compete for playing time.
5th Rd (#151) S Joe Lefeged, S, Rutgers….. He would add depth in the secondary.
6th Rd (#184) TE Lee Smith, TE, Marshall….. He's a great blocker.
7th Rd (#215) K Alex Henery, K, Nebraska…. He has a strong leg.
These trades and subsequent draft would allow the Eagles to get bigger and more physical across the line of offensive line of scrimmage. Here's how they would look after the dealing and drafting was done. From left to right, Jason Peters at left tackle, Todd Herremans at left guard, Jamaal Jackson or Mike McGlynn at center, Danny Watkins or McGlynn at right guard, Gabe Carimi at right tackle.
The Birds would say good-bye to Nick Cole and Reggie Wells.
They would hang onto Max Jean-Gilles, Austin Howard, King Dunlap as their backups. In a pinch Watkins could move out to tackle. He played some tackle at Baylor.
On the defensive side of the ball left to right, the Eagles would have Juqua Parker and Brandon Graham at left defensive end, Antonio Dixon at left defensive tackle, Muhammad Wilkerson or Brodrick Bunkley at the right defensive tackle, and of course Trent Cole at right defensive end.
Their backups would be Darryl Tapp, Greg Romeus, Ricky Sapp and Daniel Te'o Nesheim at defensive end, with Trevor Laws, and Bunkley or Wilkerson backing up inside at the defensive tackle positions.
I think the Dixon and Wilkerson combination could make for the most dynamic duo at defensive tackle for the Eagles since the
Jerome Brown days. Both of these guys are big, quick and capable of getting into the backfield.
At the linebacker position the Birds would have Aaron Curry at Will linebacker, Jamar Chaney or Stewart Bradley would be in the middle at Mike, with Bradley or Moise Fokou lined up over the tight end at Sam. Keenan Clayton and Quan Sturdivant would be the back-ups at linebacker.
Now for the secondary, new cornerbacks Ras-I Dowling and Shareece Wright will be back-ups behind Dimitri Patterson and Asante Samuel but will play in dime packages and on special teams. Wright can be a return guy on kick-offs and punts.
I don't expect Quintin Mikell to return to the Eagles so the safety position will be manned by Kurt Coleman, Nate Allen, Colt Anderson, J Wall and maybe Marlin Jackson.
I could see Joe Lefeged competing with Coleman for the strong safety position and playing special teams.
Adding kicker Alex Henery in 7th Rd is a no-brainer to challenge David Akers (if Akers ever signs his deal) but remember this Henery was a 3-year starter at Nebraska and is used to kicking outdoors in the windy, cold, wet conditions. He has a very strong leg..
That's it for now.