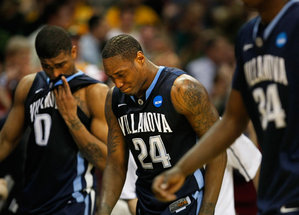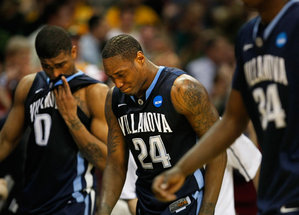 Villanova fell apart down the stretch in the regular season, so I guess it was fitting that they went down yesterday in the same fashion. This team just couldn't get it done when it counted.
The Wildcats have been shakier than the Miami Heat when it comes to making a shot down the stretch. Remember this team was 16-1 at one point in the season. How could a team fall apart so badly so many times?
It had to have something to do with their confidence. You can't just miss shot after shot with the game on the line for it not to have something to do with a lack of confidence. This is the great thing about the NCAA tournament, you've got to make the plays down the stretch. Even the top teams will be forced to win some close, down to the wire games in order to advance.
Our only hope now is Temple and they're in for an uphill fight against a talented squad this evening.
The Owls will need to be on top of their game against a San Diego State squad which is 31-2. The California team is long and athletic with three high jumping forwards manning the front court.
All-American Kawhi Leonard is the main man, along with Billy White and Malcolm Thomas. They're all explosive athletes and they
stand about 6'8″. They will dominate if they're allowed to get position inside.
Fran Dunphy and the Owls will need to focus on keeping these guys off the glass. Temple must box out and give 100% effort in order to have a chance of retrieving the basketball.
Leonard is the guy who they must contain and they can't allow him to take over the game. He's regarded as one of the best players in the nation. He's expected to go early in the NBA draft. The young man can do it all when it comes to scoring, rebounding, distributing the ball and defending.
Again the Owls will have to match the Aztecs' passion for hitting the offensive boards. If they do that it will give them a chance.
This also puts a premium on taking good shots and making them. Ryan Fernandez and Ramone Moore carried the Owls on Thursday and they'll have to do the same this evening.
Big man Lavoy Allen must play much better than he did in the win over Penn State. If he doesn't show up with a big performance, don't expect the Owls to survive.