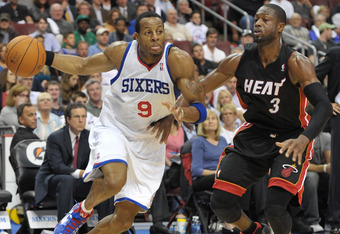 In our third and final installment in a series of potential playoff opponents for the 76'ers: The Miami Heat.
Of course the Heat have the nucleus of Chris Bosh LeBron James and Dwayne Wade, they also have acquired the services of Mike Miller, Eric Dampier and newly acquired Mike Bibby. Starting point guard Mario Chalmers is out for at least a week with a knee injury,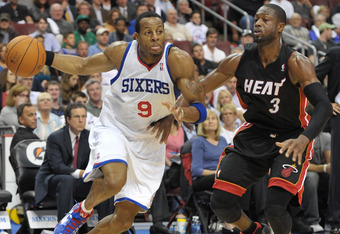 so Bibby will be inserted into the starting spot. After the aforementioned players, there isn't much left from this team – but on most night's the core of Bosh, James and Wade are enough to get the job done.
The strength of the Heat is the versatility of Bosh, James and Wade who can all play and guard at least 2 positions, this is a problem that the Sixers could encounter if the Heat went to a big lineup with Wade at the point and James as a "two". Bosh could play a little "three" but is more effective at the "four" and "five". Wade has the ability to post up the smaller Jrue Holiday and Jodie Meeks and is enough of a defensive presence to cause problems.
As we all know James has the ability to disrupt positions one through four at both ends, the front court of the Sixers would be severely tested in this series as Doug Collins would have to defer to Thaddeus Young in most situations to deal with James.
Andre Iguodala would draw the assignment of guarding Wade. Spencer Hawes' ability to score away from the basket would be a plus.
Elton Brand, Marresse Speights and quite possibly Craig Brackens would platoon guarding Chris Bosh. In this all-hands-on-deck series, the Sixers would be wise to use anyone with a fresh set of wheels.
The Sixers bench would have their chance to make their mark in this series. I watched the return of Andres Nocioni on Saturday night as he, Lou Williams and Young combined for 50+ points in a loss to the Blazers. Nocioni has taken a back seat without complaint while Evan Turner has continued to develop and gain in-game experience – a classy move on his part and you can tell that he has continued to work hard in practice.
I was hoping and praying that he wasn't in Coliins dog house, ditto Jason Kapono. The nucleus of the Sixers bench will see their share of minutes as they commingle with the starters. Collins can go a player or two deeper than usual but that's his limit. The Sixers need to be at their maximum production as they're facing the NBA's worst bench unit. They should be able to get out and run when necessary – I would expect a big series from Speights, Williams and Young.
Evan Turner is a key player here, he hasn't had the season that we've expected but I can't knock him for his effort,.He's never been too high or too low, he knows that he's a work in progress as is his team. The biggest thing is that Collins believes in this team and sometimes that's all that matters. This season was about getting past last season and making strides and as I remember last season, I can say that they have accomplished that.
Heat in six or seven.