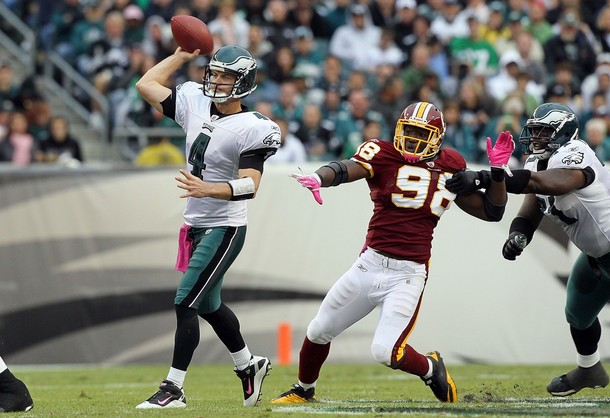 If you were running an NFL team, which was in need of a starting quarterback, would you put all your cards on the table with the Eagles during a time in which you couldn't trade for Kevin Kolb because of the NFL lockout? Of course you would call them and tell them you were interested but you wouldn't make a definite offer.
I do think the Birds will get a first round offer for Kolb when a injunction is put in place and trades are possible, but that's the case right now.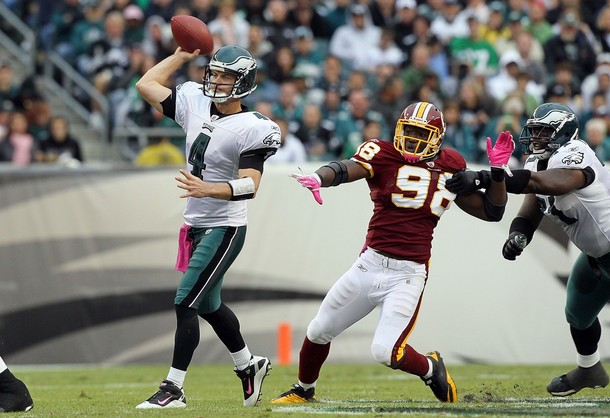 I can tell you that I wouldn't make the Eagles an offer at that time. Maybe you would, but I wouldn't. I would let them know I was interested but I would want to wait until we could consummate the deal before I would put a first round draft pick on the table.
"You can figure if there's a quarterback that a number of teams are interested in, you're going to end up with some meaningful compensation," Eagles president Joe Banner told Philly.com's Jeff McLane on Monday at the NFL owners' meetings in New Orleans. "You can kind of figure out what that means and speculate from there. That's the situation we're in."
Banner went on to make it seem like about a quarter of the league has given the Eagles a call to let them know that they have interest.
"But the pool of teams interested in him is much bigger this year, by the dynamic of how many teams need a quarterback and how few other options there are to get one," Banner added. "There were a group of teams that last year tried to get by with OK quarterback situations and it didn't work out very well at all – all the West Coast teams, the Carolinas, the Miamis."
When have you ever heard the Eagles front office talk so openly about the failings of other franchises? The more I hear them, the more I start looking for a used car salesman to show up.
Personally I don't think everything smells right about this report. When somebody starts talking about a definite offer of a number one draft pick at this time, I don't buy it. It would be a total act of incompetence on the part of an NFL General Manager to offer a first round pick to the Eagles for Kevin Kolb before a deal could even be done.
Could somebody tell me when an NFL team is going to be able to trade one of their players? You don't know and I don't know and
nobody knows.
An NFL team, which is looking for a quarterback would know that the Eagles would take their offer and go to every team in the league that's looking for a quarterback and tell them about that offer of a number one pick and inquire whether they could better the offer.
Offering a number one pick now would almost guarantee that the entire league would know about the offer in the not too distance future. General Managers and Head Coaches know how information slips out so consistently in the NFL. If something happens behind close doors and at least three people know about it, it eventually becomes public information.
I do believe the Eagles have gotten calls by GM's and representatives from other teams inquiring about Kolb. Teams talk all the time and it would be foolish for the team not to call and let the Eagles know that they had interest in Kolb, but those calls really mean nothing when it comes to getting an offer.
but I don't think they've gotten a definite offer.