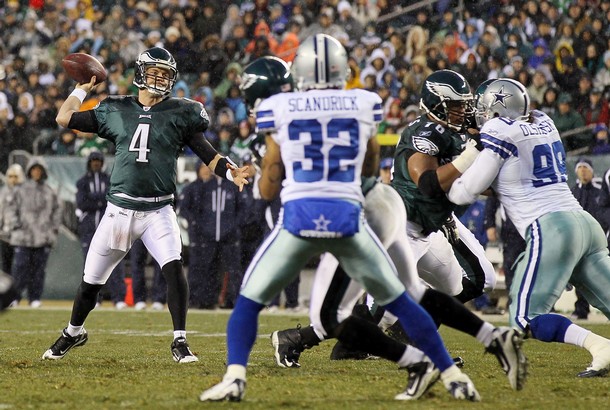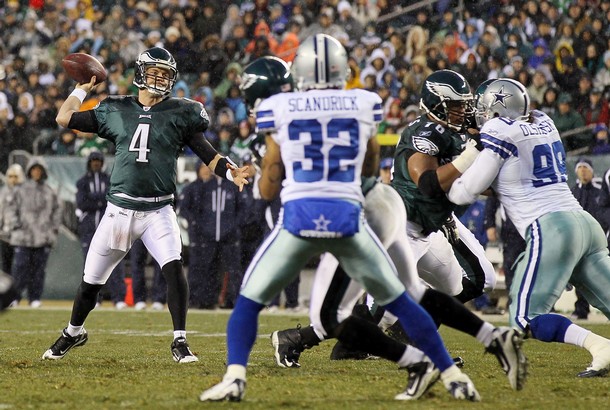 Ah, offseason rumors. Usually a bunch of hot air, but they are a lot of fun to talk about. It's something for us to discuss while we wait for the next Phillies ace to take the mound.
Adam Schefter of ESPN is reporting that the Cincinnati Bengals have "floated the idea" of trading for Eagles QB Kevin Kolb.
"Make no mistake about it," said Schefter. "The Bengals know they need to move on without Carson Palmer."
This would contradict what team-wrecker Mike Brown has been saying publicly for the entire offseason. While Palmer insists that he'll retire before he ever plays for the Bengals again, Brown keeps saying that he has no interest in moving him. For the sake of the public's perception of Brown's sanity, let's just assume he's blowing smoke.
What the Bengals decide to do with the No. 4-overall pick could be very telling. They know (we think) that they have to do something about Palmer, and his replacement is not on the roster. If they pass on Blaine Gabbert or Cam Newton (or never get a chance at either), do they come back in the next round and grab Colin Kaepernick, Jake Locker or Ryan Mallett if they get a chance? Oh, do tell!
If they don't, one would have to think that that would tip their hand in free agency, if and when that starts. There are sure to be some other QB's on the market, so if they ignore quarterback in the draft, it obviously doesn't mean they are trading for Kolb.
And while I already said that most of these rumors are a bunch of nonsense, the fact that so many teams keep popping up in the Kolb sweepstakes is a good thing. There seems to be some kind of market for Kolb, even though we don't know exactly what that is yet.
Let's just play pretend for a second. Let's pretend he ends up with the Bengals. If you are Kevin, you must be pretty sore at Andy Reid and the organization. You sit me for three years. Then you tell me I'm the starter. I get a concussion. I get healthy, and you make me the starter again. Sort of. Then you announce that I'm the backup again. Then you trade me to the Bengals.
THANKS.
We'll see what happens. There has to be a lot office pools at this point on where Kolb will land.