Michael Vick was quarterbacking the Eagles and Aaron Rodgers was quarterbacking the Packers when Green Bay beat the Birds in the NFC Divisional Playoff game in January. We all know he and the Eagles would like to get a rematch early next year, but nobody knows whether there's going to be a football season and if there is one, we don't know if those teams will make the playoffs and go up against each other again.
The Eagles may never get their rematch, but Vick is close to getting a rematch with Rodgers. It won't be on the football field, but it will be in the finals of the battle for the cover of this year's Madden game. They're down to the semifinals now with Vick and Rodgers as the heavy favorites to meet in the finals.
Joining Vick and Rodgers in the semifinals are two running backs the Browns' Peyton Hillis and the Vikings' Adrian Peterson. There's reason they call the NFL a quarterback league. The running backs will probably get doubled up in votes by the quarterbacks.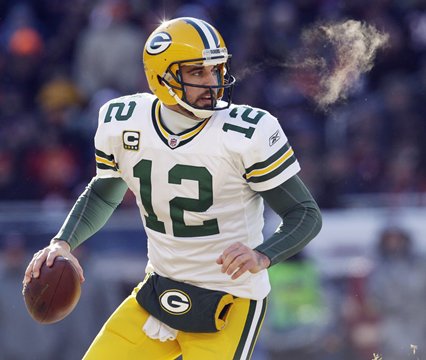 Vick will have his work cutout for him against Super Bowl MVP Rodgers in the finals, but if anybody can beat Rodgers it will be Vick. I
In the quarterfinals, Vick crushed 49ers middle linebacker Patrick Willis, Peterson beat Saints quarterback Drew Brees, Hillis beat the Chiefs running back Jamaal Charles and Rodgers made easy work of Patriots running back Danny Woodhead.