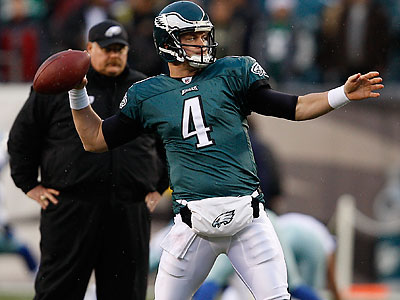 It looked for a day or two like the Eagles might get their chance to trade Kevin Kolb for some valuable 2012 draft picks, but now that the lockout has been resumed, those chances aren't there.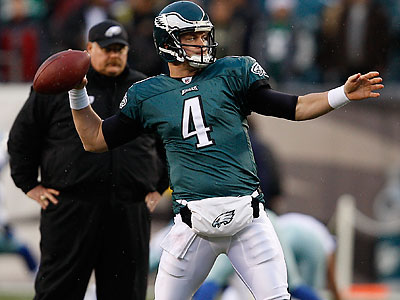 Not only are the chances to trade him disappearing, but the teams to trade him to are disappearing as well. The Eagles hands are tied as team after team satisfies their thirst for a quarterback via the draft.
Remember when all those teams were interested in Kevin Kolb. Some said half the league, others said 12 and others said 13. There was a line of NFL coaches and player personnel people ready to trade a first-round pick for the Eagles backup quarterback and some said so verbally.
That group of teams is quickly disappearing as they selected quarterbacks in the first, second and third rounds of the draft on Thursday and Friday night. The Panthers started things off by drafting Cam Newton with the first pick. This wasn't a surprise. There are questions about Newton but there's not denying his potential.
Surprisingly, the Tennessee Titans showed the desperate mentality of teams looking for a quarterback when they drafted Washington's Jake Locker with the eighth pick in the draft. Locker who was thought to be a top prospect in 2010, was expected to go late in the first round. He has trouble throwing accurately from the pocket, which could be a major problem on the NFL level.
Missouri's Blaine Gabbert was supposed to be the second quarterback to go behind Newton but he didn't go until Jacksonville selected him with the 10th pick. Gabbert is an outstanding athlete with a strong arm. He's got good size, but didn't light things up in college.
The shocker of the draft so far along with Locker going number eight was the Vikings selecting Florida State's Christian Ponder at 12th spot. Ponder wasn't expected to go until round two or three because of his questionable arm and inability to be consistent during his college career. Maybe he'll have more success in Minnesota than he had at Florida State.
TCU's Andy Dalton was supposed to have a chance of being drafted in the first round, but that didn't happen. He did go early in the second at pick number 35 when the Bengals decided to draft somebody to throw the ball to their first round pick A.J. Green. Dalton is has average arm strength, but he's very accurate and is considered a good fit in the west coast offense.
The last quarterback to be picked last night was Nevada's Colin Kaepernick who was grabbed by the Niners with the 36th pick in the draft. Kaepernick has great athletic ability, but he's considered a project because of the offense he played in and his unorthodox throwing motion.
Of the teams left, Arizona is said to have an unwritten agreement with free agent quarterback, Marc Bulger, and he's expected to sign with them as soon as signing free agents is allowed. Cleveland seems to be willing to go with Colt McCoy for a while.
Seattle is still a possibility because they weren't able to sign veteran free agent quarterback Matt Hassellbeck. Buffalo, Miami, and Washington didn't draft a quarterback, so they're all still in the market. That's a grand total of four and who knows what's going to happen later today.
As you can see, that's a huge reduction in potential trading partners for the Birds and there's no telling when the Eagles front office will be allowed to work out a deal.