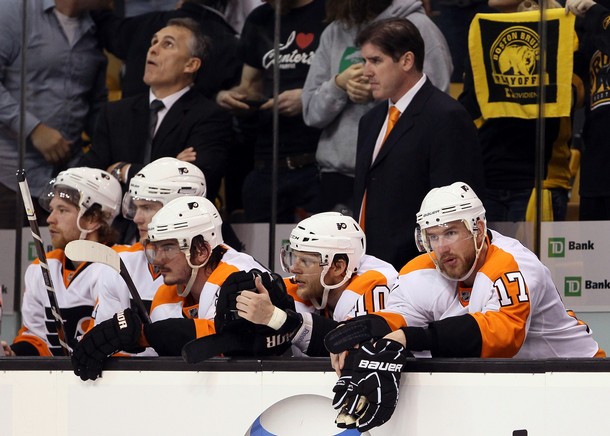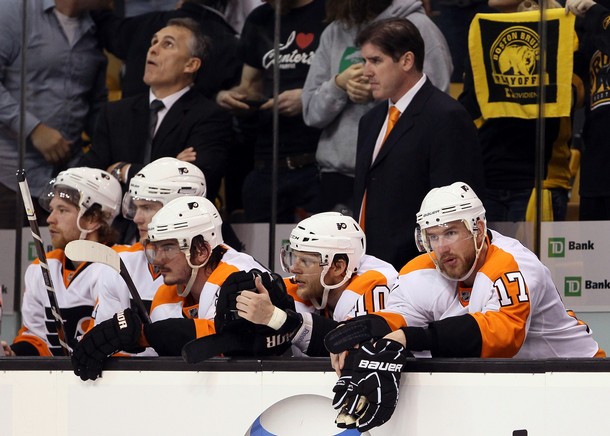 Sixty three seconds.
The Flyers broke a franchise record by allowing two goals in the first sixty seconds of tonight's Game Three blowout. Aside from Sean O'Donnell showing Nathan Harton that you're never too old to tussle with the young dogs, there was nothing positive from today's game. The Flyers, tanking 5-1 against the Boston Bruins, head to Game Four looking worse than a men's adult league.
To address the most glaring deficiency, the goaltending from Brian Boucher was not where it needed to be for this team to be Stanley Cup worthy. Faulting him alone for the loss wouldn't be fair; it was another series of mental lapses from the defense that allowed the Bruins to take high percentage shots on goal. I doubt Boucher starts the next game, which means that tonight's journey into the abyss may have been Boucher's last time on ice as a Flyer.
Jeff Carter was back in the line-up after a two week stint on the IR. Many expected that he would play in a limited role similar to Chris Pronger's return in the first round, but Carter actually had more ice time than the Scott Hartnell-Danny Briere-Ville Leino line. I don't know if that's a sign that Carter is feeling better than he looked or if our top line is completely ineffective against the Bruins.
I have tried countless times to give Kris Versteeg the benefit of the doubt, but he does not belong on this squad. He was on the ice for the first goal and was tossed around like a rag doll. The Flyers were credited with 31 hits compared to the Bruins' 24, but anyone who watched the game would know that the Flyers were being viciously outhit. 
The Flyers (or perhaps more accurately, the officiating) also allowed the Bruins to score their first powerplay goal of the playoffs on a 5-on-3.
This is a choking situation on the magnitude of the Terry Murray era. While the loss of Pronger throughout the playoffs has certainly hurt the team, the rest of the defense should be much better. I've been a big fan of Matt Carle since his trade from the Tampa Bay Lighting, but he has been at fault in every single game of this series for goals.
It will never be said out loud, but the lack of faith in goaltending has likely been the factor that has made the team play so poor defensively. It's a vicious cycle- the questionable goaltending leads to weaker defense which leads to worse goaltending and so on.
I am skeptical that the 2011 Flyers can repeat the recent past based on how badly their play has been, but at least they will have company in the Washington Capitals.