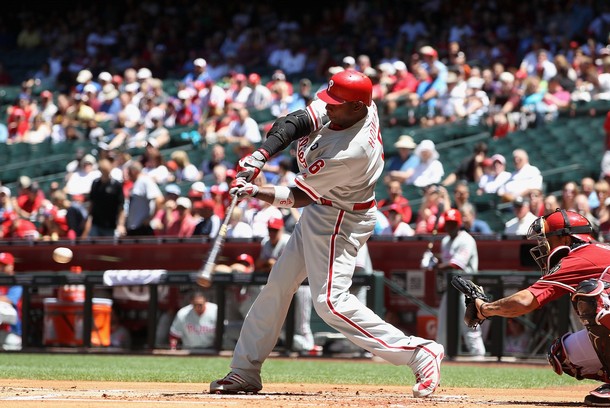 After almost 30 games played in this 2011 baseball season, the Phillies, by just their record alone, are one of the best teams in baseball.
At 20-9, they own the top record in the National League and are tied with the Cleveland Indians of all teams for the best in Major League Baseball.
As expected, the pitching staff is superior – an ace in the deck just about everyday. Roy Halladay, clearly the best pitcher in baseball, Cliff Lee, Roy Oswalt and Cole Hamels all have ERA's below 4.00. Furthermore, if Vance Worley continues to pitch in place of Joe Blanton, his is a not too shabby 0.75.
While the hitting has occasionally caused the fans to pull their hair out and use words of profane nature, it's safe to say most people would take this lineup over most in baseball any day of the week.
Placido Polanco continues to be one of the best contact hitters in the sport batting .374 with 21 RBIs and Ryan Howard is a premiere power hitters in baseball, sending off six majestic home runs into orbit and producing 29 RBIs at a machine-like rate. The rest are streaky enough to where if all eight players put it together at once, watch out.
Lastly, the bullpen has been surprisingly good. Everyone but David Herndon and seldom-used Mike Zagurski have ERA's under 4.00.
With all of the above, it is obvious – this team is not good, but great.
However, I have to play the role of fun police as I noticed something about the Phillies first 30 gamee on their 2011 schedule – they haven't played anybody that good.
The squads which the Phils played so far are the Astros, Mets, Braves, Nationals, Marlins, Brewers, Padres and Diamondbacks. Only two of the teams, the Braves at 17-15 and Marlins at 19-10, have a winning record. All of those ball clubs combined are 112-129. In addition, it's hard to compare the Phils against the one team with a great record, the Marlins, because they only played them twice to a 1-1 record.
So after the Phils sweep the Nationals today, because they will (Halladay is pitching), the next three weeks of baseball go as follows – Braves, Marlins, Braves, Cardinals, Rockies, Rangers and Reds.
All of those teams have records of .500 or above for a combined mark of 103-74.
Often we hear the same clichés over and over again. One of those is beat the teams who you are supposed to beat and go .500 against the squads that are better than you.
In other words, always beat those who are bad and do OK against those who are good. But, if the Phils go .500 or anything close to that in the next 20 games after today, it's not a good sign.
The Phillies are elite. Anything less than 13-7 is alarming because there are seven series and two of them are two-gamers (May 16-17 at St. Louis and May 18-19 vs. Colorado). If the Phils go 13-7 or better, that probably means they won every series and tied the ones that are only two games.
Defeating bad teams are easy, icing on a cake. But taking care of the good teams is a sign of dominance and states that you are unbeatable.
With the Flyers on the brink of elimination again and football still in limbo, the next three weeks will be a great chance for Philly fans to see what this baseball team is made of.