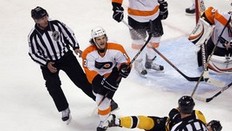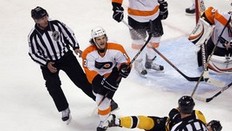 Dan Carcillo has been suspended by the NHL for the first two games of the 2011-12 season "for his actions off the ice following the first period of Game #4 of the Eastern Conference Semifinals against the Boston Bruins," according to NHL.com.
"Between the first and second period, while off ice and outside the officials' locker room, Mr. Carcillo engaged in aggressive behavior and inappropriate conduct directed at the officials," said Murphy. "While Mr. Carcillo acknowledged in the hearing that he regrets his actions outside of the officials' room, there can be no defense for his conduct."
If I were to take a guess what set "carbomb" off, it may have been the penalty called on him at the 11:31 mark of the first period. Carcillo initially hit Bruins forward Gregory Campbell, son of NHL disciplinarian Colin Campbell, hard into the boards during a 4-on-4. Campbell got up and continued towards the crease.
As the puck made its way around the net and in proximity to Campbell, Sergei Bobrovsky covered the puck and Kimmo Timonen guided him away from the play. Carcillo then "sat him down" and was called for cross-checking.
Thirty-one seconds later, Milan Lucic, camped out in front of the net, hammered the puck home to take the 1-0 lead.
I won't argue that it wasn't a penalty. Perhaps a nitpicky one for playoff hockey, but it wasn't the smartest move by Carcillo. Furthermore, harassing the officials, be it verbally or physically, is not the way to take out your frustrations. It sounds like he deserves this suspension.
Carcillo is currently a restricted free agent. Last season, he had initially planned to go to arbitration before deciding to accept the Flyers offer of one year at $1.075 million. Unless he is willing to stay here for significantly less, there is a good chance that he will not be back with the orange and black next season.
That's not an indictment of Carcillo's worth as an NHL player. He does have a lot of good qualities in a fourth liner. He just has as many drawbacks, unfortunately, and this may have been the straw that broke the camel's back.
Between Jody Shelley, Tom Sestito, and as much as I hate to admit it, Zac Rinaldo, the Flyers have cheaper options available who can player similar roles if need be.
For the latest Flyers news and updates, you can follow me on twitter (@JoshJanet).