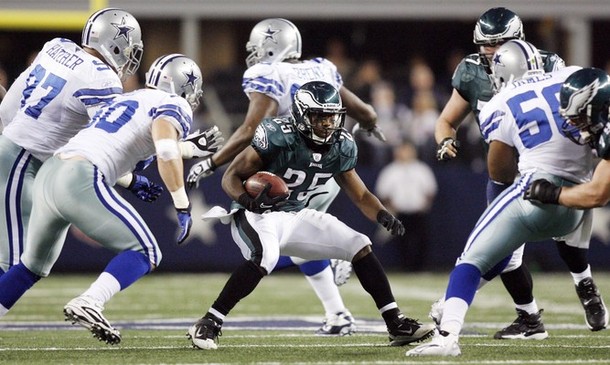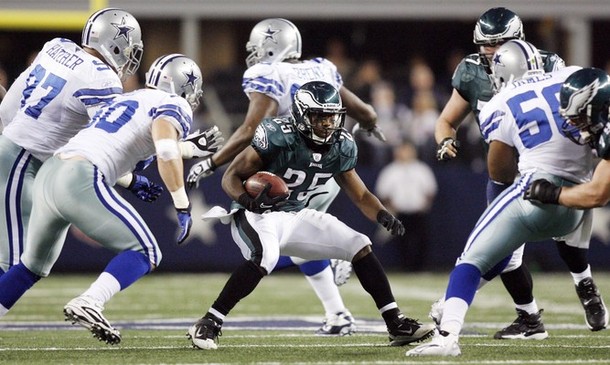 New York Giants All-Pro defensive end Osi Umenyiora is a great pass rusher, but he's not a physical player and nobody fears him. That's probably the reason Eagles running back LeSean McCoy had the nerve to call out Umenyiora on Twitter. He has no fear of Osi retaliating during a game.
Yesterday Osi filed a lawsuit against the Giants and GM Jerry Reese. He accused them of not following through on a promise to renegotiate his contract. Before the case has even been heard, McCoy sided with the Giants front office against Umenyiora. He tweeted the following.
"Overrated n soft 3rd best d-line on his team honestly".
Wouldn't it be funny if the Giants called McCoy as their star witness against Osi? That would be a lot of fun. Who would Umenyiora's lawyer call during the trial? What about Winston Justice who gave up six sacks in a single game to Osi?
You know he rates Justin Tuck over Umenyiora because he's an all-around defensive end who plays the run as well as the pass. I'm not sure who he rates ahead of Osi after that, but McCoy was telling the truth about the Giants defensive end being soft.
There's a reason, McCoy was running to his left on those big rushing plays against the Giants. Umenyiora lines up on the Eagles left side, so they run at him and away from Tuck. McCoy was just voicing what he heard and saw in the Eagles offensive meeting room.
McCoy comments might also have tipped off the fact that the Birds consider Mathias Kiwanuka ahead of Umenyiora and may pursue Kiwanuka in free agency.