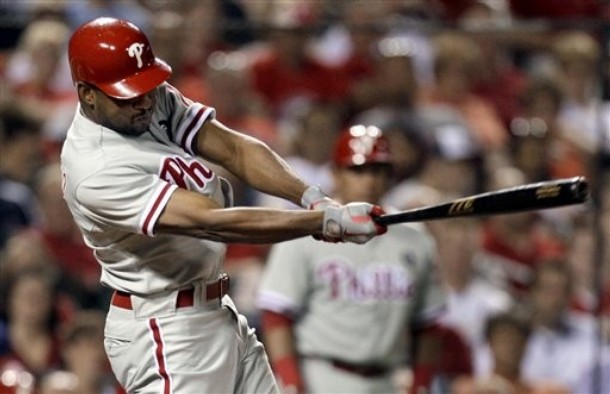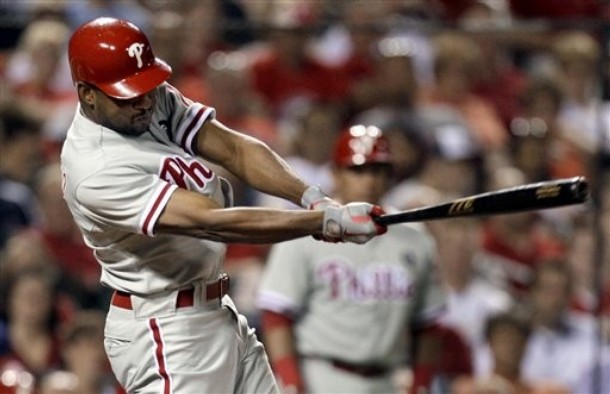 The Phillies and Athletics were locked into a pitching duel on Friday night. The two teams combined for just one run and six hits on the night, with the only run of the game coming in the ninth inning. Neither team managed a base hit through five innings.
Each team's starting pitcher lost their respective no-hit bids in the sixth inning. Hideki Matsui doubled off of Vance Worley in the top of the sixth with two outs, and Placido Polanco singled off of Guillermo Moscoso with one out in the bottom of the inning.
Despite only giving up one hit, Worley only lasted six innings. He had already thrown over 100 pitches after six innings of work, and Charlie Manuel didn't feel confident in allowing the young pitcher to throw as many pitches as he would allow Roy Halladay, Cliff Lee, or Cole Hamels to throw.
Worley pitched well, but struggled with his control. Of the 105 pitches he threw, 64 of them were strikes and 41 were balls. He walked four batters in the game. The righthander has pitched well for the Phillies, but he's going to get himself into trouble in the future unless he can stop walking batters.
The Phillies bullpen stepped up, and was able to pick up where Worley left off, keeping the game scoreless. David Herndon gave the team an inning and two thirds of scoreless relief. Lefty Juan Perez appeared in his second game of the season, and recorded the final out in the eighth inning. Mike Stutes pitched the ninth inning and struck out two batters.
The Phillies finally scored the only run of the game in the bottom of the ninth inning. Shane Victorino led off the inning with a patient at-bat that resulted in a walk. After Raul Ibanez grounded out, Domonic Brown singled to give the Phillies runners at first and second. It was a good night for Brown, who finished the night with two base hits and two walks.
But this game's hero would be Ben Francisco, who drove in the game's only run. He pinch-hit for Mike Stutes with two outs, and delivered a base hit off of Oakland's Brian Fuentes to give the Phillies the win. It was the second big hit of the week for Francisco, who also delivered a pinch-hit RBI single against the Cardinals earlier in the week.
Despite another poor offensive showing, the Phillies managed to escape Friday's game with a victory. The four pitchers the Phillies used only gave up two hits, and needed to be on top of their games in order for the team to be successful in this particular game.