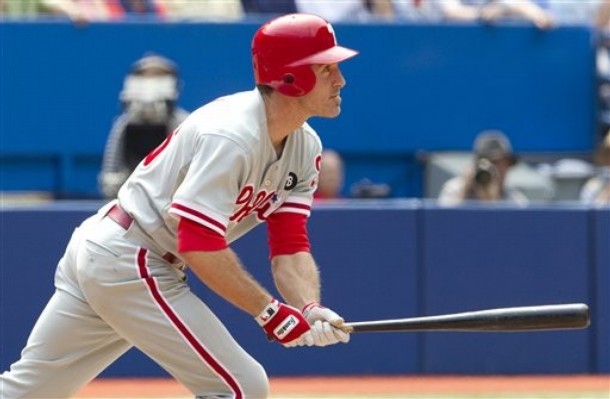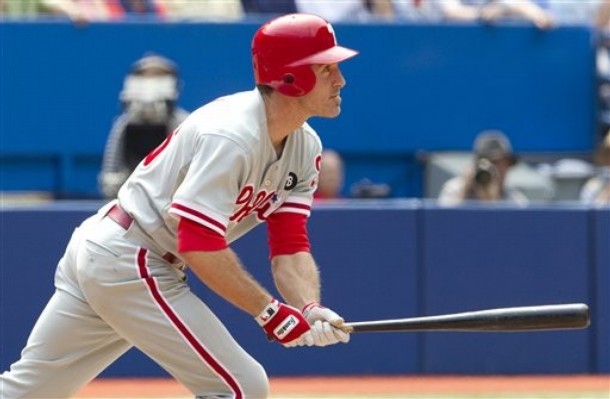 For the second straight game, it looked as though the Phillies offense would be unable to produce enough runs to defeat the Cubs. However, the team managed to rally late in the game to steal the second game of the series.
Cliff Lee struggled early, but was still able to produce a quality outing. The All-Star put the Phillies behind early by giving up a two-run homerun to Starlin Castro. The lefthander was able to work his out of several tight spots throughout the evening. He finished the night lasting six innings, giving up two runs on eight hits, and struck out six.
The sources of the recent problems with the offense are Chase Utley and Ryan Howard. The two most important pieces of the lineup have been ice cold as of late. The team has had contributions from unlikely sources such as John Mayberry Jr. and Michael Martinez lately to help offset the lack of production from their offensive stars.
Utley and Howard will naturally go through periods of ineffectiveness from time to time as all players do, but when they do go through slumps they dramatically dilute the potency of an already inconsistent offense.
Utley had just one hit in his last 15 at-bats. He had driven in just two runs since June 23rd. His batting averaged dipped from .287 to .263 in the last two weeks. He broke out of his RBI drought in the eighth inning with a two-run double to tie the game off of Chicago lefthander Sean Marshall.
The Phillies then took advantage of a couple of breaks they received in the top of the ninth inning to take the lead. Ben Francisco was able to come up with a pinch hit single because of how deep the Chicago outfielders were playing. Jimmy Rollins reached base next after hitting a line drive off of the glove of Aramis Ramirez. The next batter, Michael Martinez, delivered a weak base-hit that fell into a good spot in right field, allowing two runs to score.
Antonio Bastardo closed the door in the bottom of the ninth inning to complete the come-from-behind victory. He struck out the side, recording his seventh save in seven opportunities.
Player Of The Game:  Cliff Lee
Lee wasn't at his best in this game, and put the team behind early. However, his performance was critical to setting up the team for a win. After the Cubs got the early lead, they had several chances to break the game open, but the former Cy Young Award winner didn't allow Chicago to gain anymore ground. He kept the game close, setting the stage for the offense to capitalize on their late opportunities.