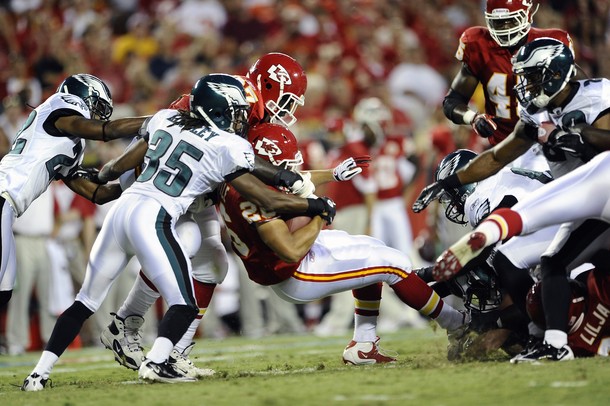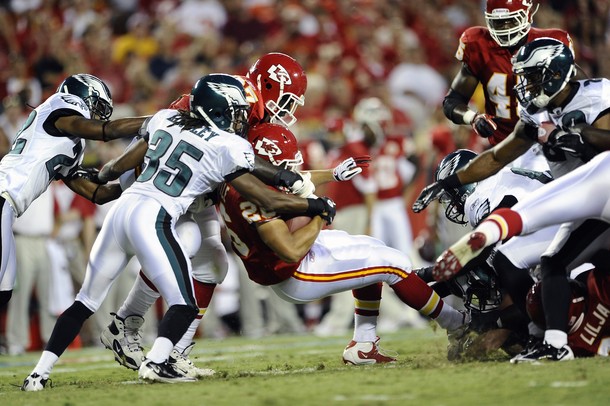 Everybody expects the Eagles to acquire a starting cornerback via free agency or trade, but they also are planning on doing something else to stop their right cornerback and safeties from getting torched. Remember last year's Eagles defense was the worst Red Zone defense in the last 25 years in the NFL. That's quite an accomplishment but not a good one.
It wasn't a surprise to me to find out that Andy Reid wants to make a structural change in the way the Eagles play defense in order to improve the pass defense and especially the Red zone defense.
"I know Coach Reid has wanted to run the Cover 2 for a long time", Eagles veteran safety Quintin Mikell told Geoff Mosher of DelawareOnline.com. "It seems like the past couple of years we've been slowly progressing toward that. It might be moving toward that. I think he [Castillo] is going to kind of tweak things here and there. It's gong to be kind of the same 4-3 but I think it's going to be a little less based on scheme and more based on guys just kicking somebody's butt."
Cover 2 is a two-deep zone defense that is the number one coverage of the Chicago Bears, Tampa Bay Buccaneers, and Indianapolis Colts. These teams live in Cover 2 on first and second down. The two safeties stay deep and prevent big plays. Many times offense attack them with short passes. These teams rely on speed and good tackling to limit the short passes to short gains.
The Eagles weren't a Cover 2 defense when Jim Johnson was calling the signals and they weren't Cover 2 defense when Sean McDermott took over. Reid probably feels that Cover 2 could make things much easier for a young and inexperienced defensive coordinator like Juan Castillo.
He saw another young and inexperienced defensive coordinator like McDermott, make the coverages and defensive alignments too complicated. He lost his job because the Eagles felt his overcomplication of the Birds defense was the number one reason that the secondary and defense played so poorly in the Red Zone.
Last year rookie cornerback Trevard Landley wasn't able to get on the field because he was unable to understand the coverages. McDermott was fired for it.
Reid knows Cover 2 will make life much easier for Castillo and the teams young cornerbacks, Lindley and third-round draft pick Curtis Marsh.
Cover 2 is a simple coverage, which can be played against just about every play and formation. The cornerbacks must be willing to hit, force the run and tackle. They need to be able to roll up into the faces of wide receivers and get physical with them as they try to come off of the line of scrimmage.
Cover 2 takes pressure off the cornerbacks and puts more responsibility on the safeties and everybody else in the defensive secondary.
That's the bottomline, Reid will have the Eagles defense playing much more Cover 2 because it takes pressure off the cornerbacks and off of the defensive coordinator.