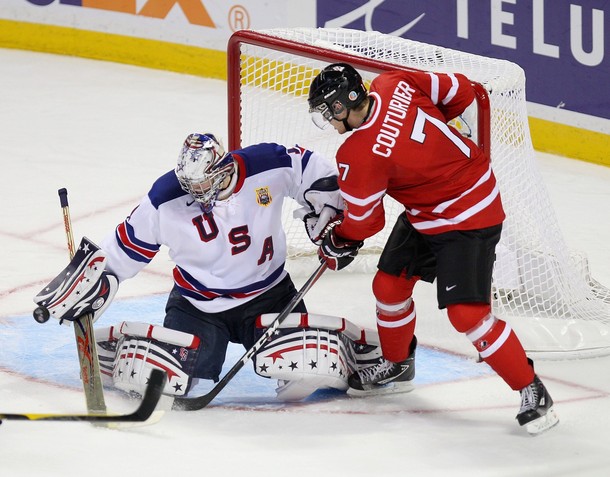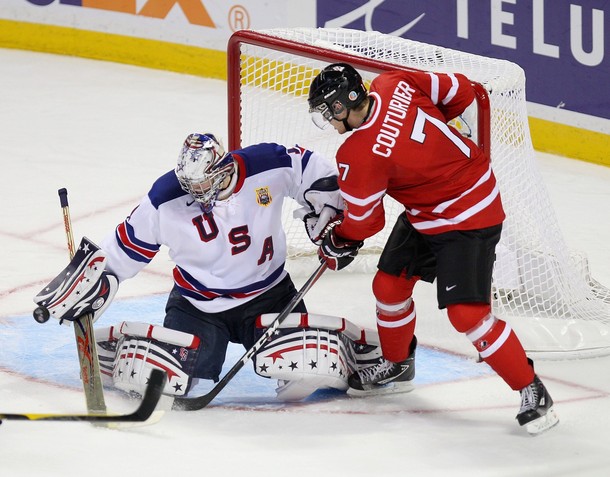 Sean Couturier, the eighth overall pick in the 2011 NHL Entry Draft by the Philadelphia Flyers, has spent the last several days at development camp for the Canadian National Junior team. It isn't Couturier's first trip to the camp nor will the 2012 World Juniors Hockey Championship in Calgary be unfamiliar. He was on the silver medal winning team in 2011, along with Brayden Schenn, that imploded against the Russians in the Finals.
Couturier is one of several players to make his second appearance at the camp; Ryan Nugent-Hopkins (Edmonton), Mark Visentin (Phoenix), and Erik Gudbranson (Florida) are also eligible for the team. Hopkins, the first overall pick last June, scored twice in the exhibition game at the end of camp while Couturier spotted two assists.
The final roster does not have to be decided for another four months, but one factor that plays into that decision is whether or not a player is on the active roster for an NHL club. A player like Visentin has a long shot to make it this year due to the goaltending depth with the Coyotes, but Hopkins is going to be given every opportunity to make the Oilers come September.
Unfortunately for Couturier, he falls in the latter category. As it stands, the Flyers do not have any contract space to sign him to an entry level deal, whether he excels at training camp or not. Even if trades were made and he was able to sign, either he would be relegated to a bottom six position or he would force someone else to be.
Having too much depth is not necessarily a bad thing, but it could be more of a disruption than an advantage if his presence forces the lines and minutes to be juggled around. Either Couturier or Schenn would also have to switch to the winger position for a season.
One thing is for certain- even though another season in juniors isn't going to help him improve much, another year with the Canadian National Junior team will be beneficial for his development. Not only will it provide more competitive experience, but he will serve as a leader on the team for the younger members, and valuable leadership experience will come a long way when he finally steps onto the ice at the Wells Fargo Center.
For the latest Flyers news and updates, you can follow me on twitter (@JoshJanet).