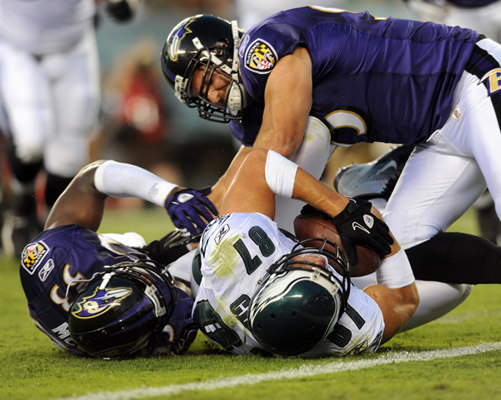 One of the most promising things I saw last night and so far during the training camp has been Michael Vick's desire to get the ball into the hands of tight end Brent Celek more often. Vick showed us a year ago, that he's adept at getting the ball deep to his outside receivers, DeSean Jackson and Jeremy Maclin. Those quick strikes are great but it's hard to consistent if you rely on them alone.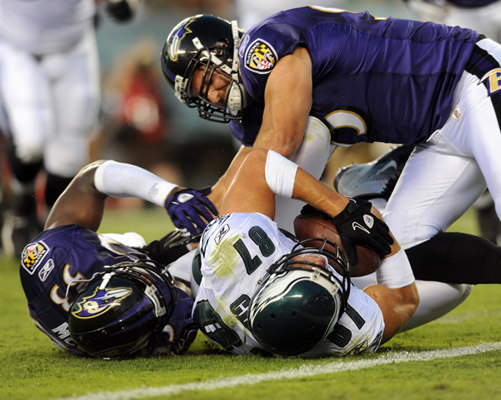 Last year Celek was kept in to block quite a bit because the offensive tackles were overmatched at times. Vick didn't throw the ball his way a great deal when he did go out, because he was focused in on his deep weapons.
Last night the Birds quarterback hit Celek with a three-yard down touchdown pass and he has made it a point in training camp to look up Celek.
"I think this season is going to be a great year for Brent," Vick said. "We've been connecting a lot over the last couple of weeks. I just told him he needs to trust me and I'm going to get the ball to him. Just get open and I'll find you."
"The majority of the time last year, he was wide open," Vick said. "I just failed to get the ball to him – just focusing in on DeSean and Jeremy. I went back on some of my Atlanta film and how I used Alge [Crumpler]. We're going to get Brent involved this year – I think
he deserves that."
It's going to be extremely important that Vick and Celek get on the same page during the season because it will make the offense more consistent. The throws to the tight end are some of the easiest in football because it's shorter throw and the tight end is a bigger target. Any time the offense gets knocked off track, Vick can get everything back in gear by hooking up with Celek on a safe, short to intermediate throw.
In addition, in the red zone as we saw last night, Celek should be one of his favorite targets because of his combination of size, speed and route running ability. I thought there were three areas of the pass offense that needed to improve dramatically.
One was the passing game in the red zone, another was the passing game versus the blitz and the final area was getting the ball to Celek which is a key weapon in the red zone and against the blitz. Advancement in an effective passing game inside to the tight end will take the Birds passing game to the next level.