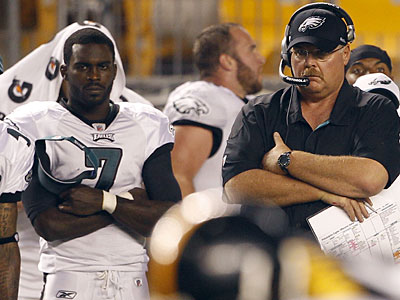 Now that was an awful performance by the Eagles. They looked like a football team that hasn't even been practicing.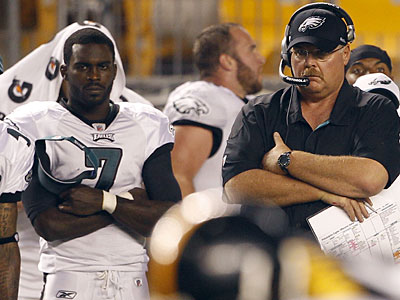 Yesterday was a bad day for Michael Vick in a lot of ways. He had to release a statement during the afternoon on Thursday to say that he signed with the Eagles out of his own volition. That was to counter an article about him in GQ magazine which says Vick was told he couldn't go to Cincinnati or Buffalo by the NFL Commissioner Roger Goodell.
Of course everybody could see that Vick had a terrible game. His focus wasn't there. He was staring down his receivers which drew coverage to them, then throwing the ball to guys who were covered and getting it to them late and behind them.
The tackle he made of Troy Polamalu could have been a major mistake if he had been knocked out. Vick played about as bad as a quarterback can play in half. He led the Birds to zero points, while throwing three interceptions. It's good for him that he didn't play the entire game.
Vick was unable to get into any kind of flow through his two quarters of work. It seemed like he was starting to think too much rather than reading and reacting. Vick was trying to make something happen even when nobody was open. Help is needed.
"Once we got down 14-0, I just started pressing the issue," Vick said. "I knew I was only going to be in for two quarters, and I wanted
to put some points on the board. All those turnovers can be corrected."
LeSean McCoy ran the ball well the few times he got the opportunity.
Vince Young played better than Vick but he didn't have an outstanding day either. He only threw one interception but like Vick led the Birds to zero points. A couple of times you could see that he's still having trouble with the verbiage because he couldn't get the offense in and out of the huddle. It's a good thing he's got time to study a great deal more before the season starts.
The one quarterback who played well was Mike Kafka, but he was playing against guys who are going to be selling insurance and used car in a few weeks. Kafka was able to hit out routes and intermediate patterns inside to move the ball down the field. He even took off a couple of times and was able to make enough plays to put 14 points on the board.
Defensively we had heard about how Juan Castillo and company were simplifying the coverages. If you went by the way the Birds defense played, they looked like they had gone out their way to complicate every so that receivers were running around wide open on every big defensive play against the Steelers first team offense.
Middle linebacker Casey Matthews needed to show us something tonight and he didn't. He seemed to be too small and overmatched at the middle linebacker position. I saw him make a couple of ankle high tackles while he was in there, but he's got to play much better than that or opposing teams will be licking their chops to get a shot at him.
The defensive line rushed the passer effectively at times, but far too many times they were unable to get into the quarterbacks' face. The defensive end were getting upfield, but too many times it was upfield and out of the play.
The defensive tackles were able to get one very good pass rush, but that was by Cullen Jenkins who sacked Ben Roethlisberger, but it
was nullified by Jenkins grabbing of the quarterback's face mask.
On the first touchdown, Asante Samuel got caught guessing. The Birds sent Nate Allen and Dominique Rodgers-Cromartie on a blitz but Allen hesitated which gave Big Ben time to make a good accurate throw.
Allen seemed to be a couple of steps behind all night long. He was missing tackles and unable to cover receivers. Every time I looked up I saw number 29 getting beat or arriving on the scene after yardage had been gained. The other safety back there, Kurt Coleman didn't do much better.
Roethlisberger showed us what quarterbacks are going to do against the Eagles secondary. They're going to get their tight ends, running backs and third receivers matched up against the Eagles safeties.
On the second touchdown drive by the Eagles, somebody blew the coverage and it looked like Allen was the guy. There were receivers running wide open all over the place. That was the case far too many times during the game. The Eagles secondary seemed confused and the defensive line was inconsistent and ineffective in their pass rush.
If you want to leave a message about Philly sports to have it put up on GCobb.com, give us a call at (856) 673-6282 and leave your message. For the latest Philly sports news and updates, you can follow us on twitter (@GarryCobb).