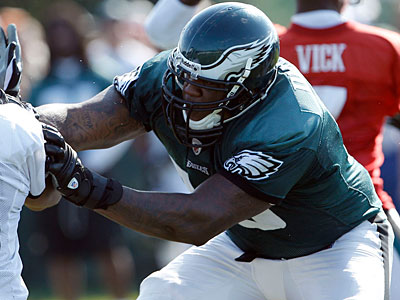 Yesterday Ryan Harris was back at practice. Winston Justice continued to work out on the side and he's getting closer to returning to action. The starter against the Steelers was King Dunlap and he continues to be the guy in their with the first team.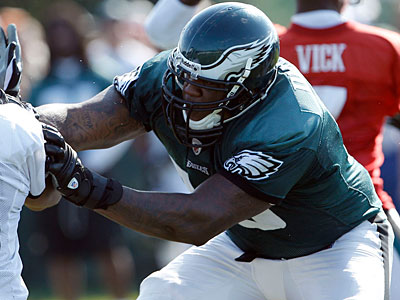 "Well, right now King is playing with the first group. And listen, King played very well in this game," said Reid. "I think he's worked himself into football shape and kind of getting what we expected earlier but everybody was a little rusty at the beginning so we're working through that and he did a nice job, there."
The fact that Reid kept Dunlap in place as the starter after Harris returned to practice yesterday, says something for how Dunlap played against the Steelers. Now Dunlap, the former free agent will try to establish himself as the starter by having another solid performance this time against the Cleveland Browns.
I don't see how the Birds can make Harris the starter after he was shut down by the back spasms. Can you depend on a guy, who plays a quarter of football, then can't practice for a week?
I could see them starting Dunlap for now and having Harris ready to take over if the young tackle struggles.
You could say the Birds have a problem at their right tackle spot or you could say they have a competition for starting position, either way we don't yet know who the starter will be on week one. Justice is trying to get back on the field after undergoing microfracture surgery.
"He's making progress, I mean, he's strong", Reid. "The trainers are putting pressure on, it's his left leg, so they're putting pressure on his right leg and just comparing it to how much he's able to support on his left leg. He can't stick it in the ground quite enough, at this point. Now, it's better than it was last week when they did the same thing. So he's making progress on it. It's just a matter of him, those offensive lineman, they can stick those feet in the ground and be strong. He's better than he was, he's making progress. I think he's on track. He's working very hard. So we'll just see, we'll see how it all works out."
I don't see a way in which Justice is able to get back on the practice field and win back his starting job in such a short period of time.
So as things stand now, our starter at right tackle will be Dunlap or Harris, with the health factor forcing us to lean toward Dunlap.
I also need to include the recently-signed Reggie Wells into the conversation. He was on the Eagles roster for most of the season a year ago as a guard, but Reid wants to take a look at him at the tackle position. "I'd really like to see him take some snaps at the right-tackle spot and continue the competition there," Reid said.
When Eagles starting quarterback Michael Vick was asked about it, he didn't seemed concerned about who was protecting his blindside.
"Ultimately, at some point we'll find a guy who is going to be that guy," said Michael Vick. "We just have to have confidence in whoever is going to be out there, and trust and believe in them. It's not a big concern — we can always help out in protection."
I think this position might be changing throughout the season. Both Harris and Justice will be fighting to stay healthy, while Dunlap continues to learn his craft.
If you want to leave a message about Philly sports to have it put up on GCobb.com, give us a call at (856) 673-6282 and leave your message. For the latest Philly sports news and updates, you can follow us on twitter (@GarryCobb).