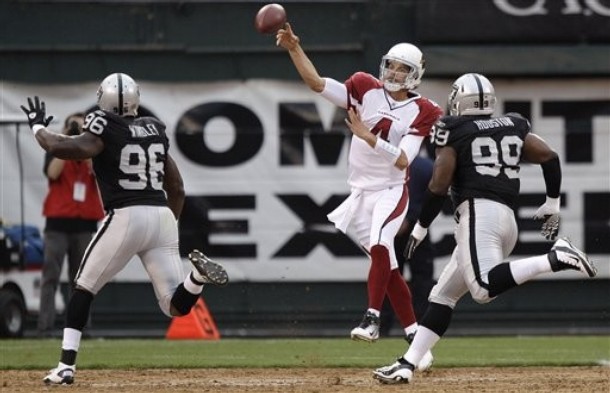 I was checking out Cardinals new starting quarterback, Kevin Kolb, a couple of days ago on NFL Network and he wasn't lighting up the sky. Kolb was having as much trouble with the Green Bay Packers defense as he did a year ago at the beginning of the season. He missed Larry Fitzgerald a couple of times. I saw him get sacked while holding onto the ball for about five seconds.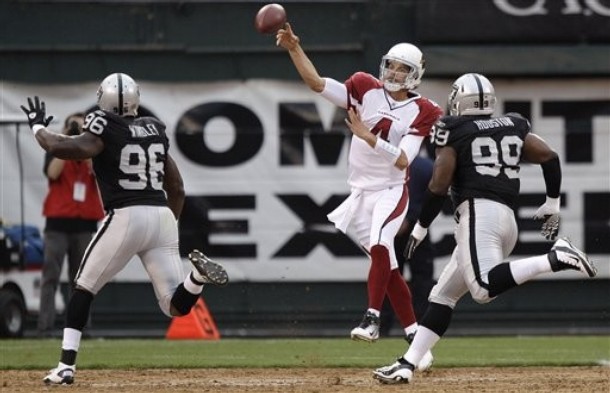 In two preseason games, he's yet to lead the Cards to a touchdown. Kolb seems to be trying to solidify his confidence, but he's yet to put together a strong performance.
"It seems like we've done everything to get down there. We just haven't plugged it in yet," he said about not having led the Cards to a touchdown yet. "But (Friday) was leaps and bounds better than the time before – in the huddle, calling the play, working the cadence the way we did."
Wisely, Kolb has been doing everything he can to develop a close relationship with Fitzgerald. "We see the picture the same way," Kolb said. "We both work hard. We both know what it takes to win. We know we need every single person in the locker room to contribute."
Everybody is holding their breath out in Arizona. Ken Whisenhunt and his staff know that Kolb is holding their future in his hands. If he fails, they're going to be looking for a job very soon and all the teams in the league will refuse to ever do a deal with Andy Reid for a quarterback.
Kolb doesn't have to start the season on fire. He's not going to be playing under the heat that he would experience here in Philadelphia and he's got the entire season to do his thing, plus Fitzgerald has got his back. "You want to have that good continuity between the quarterback and receiver, that takes time, takes repetition," Fitzgerald said on a radio show yesterday. "It takes a while to have that good repoire and I think the more we throw every single day the more comfortable he'll become with me, the more comfortable I'll become with him."
"Signing Kevin, I knew that the organization was doing everything it could to make us be in contention again and make a playoff push
like we did two years ago with Kurt, and I know with the signings of Stewart Bradley and [Daryn Colledge] and guys like that, the team is really making that conscious effort to make sure we are fighting and scratching for the NFC West championship, and I think we have a great opportunity to win it."
Kolb is going to benefit greatly from having not only Fitzgerald as a target, but he's also going to have former Ravens Pro Bowl tight end Todd Heap to work with. "Obviously, we're both young in this offense, and we're both learning quickly," Heap said. "But to see his progression in such a short period of time … he looks like he can be a really good quarterback in this league."
The former Eagles second round draft pick will probably be benefited most by the weak NFC division in which the Cardinals play.