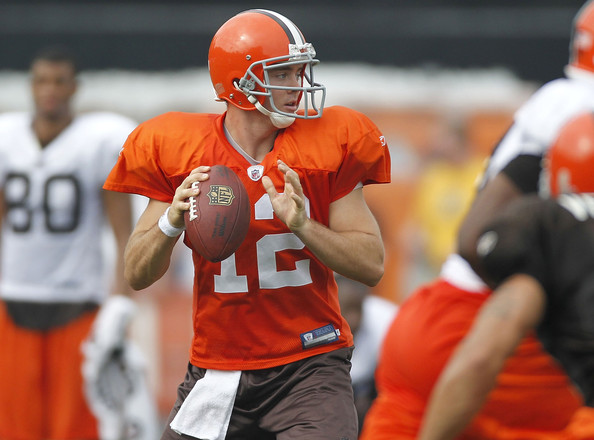 I'll be watching up the middle of the Defense as everyone else will be from the defensive tackles, despite no Antonio Dixon and Trevors Laws tonight. I will be looking especially close at the middle linebackers and the safeties to see how they play tonight.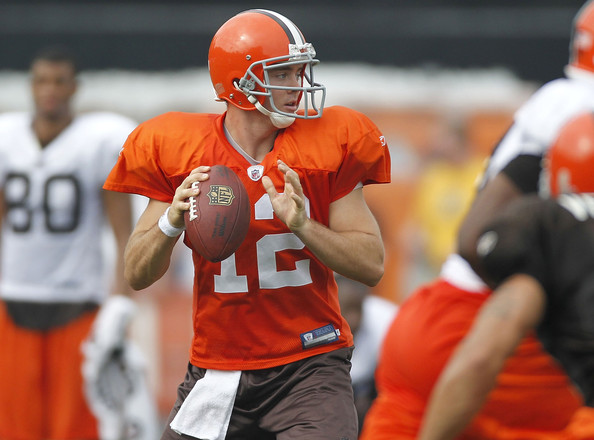 Colt McCoy fits in the short passing offense. McCoy gets the ball out of his hands and he's very accurate with his throws. He's a good athlete with the quickness to buy time in the pocket. His numbers are quite impressive thus far this preseason. Colt is 19 for 28 in two games for 261 yards, four touchdowns and zero interceptions.
The Browns will also be featuring running back, Montario Hardesty, who was a top pick from last season who hurt his knee during the training camp and missed the entire season. He's back with a vengeance. Hardesty is a 6′ 225 lbs with tremendous explosiveness and he's the type of back that usually gives the Eagles fits, i.e. Ryan Torrian comes to mind.
Hardesty is built low to the ground with big legs and he's hard to bring down. On third down former Packers running back Brandon Jackson will take over. He knows the Pat Shurmur/Mike Holmgren version of the west coast offense system. Jackson does a great job on short patterns, as well screens.
I will also be watch the Browns young tight end's Evan Moore & Jordan Cameron and their young wide receiver corps, Mohamed Massaquio, Brian Robiskie and rookies Greg Little and Chris Matthews who at 6'5″ is a big target.
I don't think Peyton Hillis or speedster Josh Cribbs are playing but don't be fooled, this Browns offense has some quality young talent and Mike Holmgrem in his third year of being team president has changed over the roster and is finally getting his type of players. They're ready to start running the true west coast offense which is short passing, slants, screens and is based on getting "yards after the catch".
The Eagles run the west coast offense but it's a different version which is reliant on getting DeSean Jackson and Jeremy Maclin deep
for big plays.
The Browns and Holmgren's philosophy is to nickel and dime you down the field, while tiring out your defense and then hitting you with big plays once your defense is worn out and frustrated.. This game should be a good test for the Eagles defense and we'll see if they can remain disciplined. We'll also get the chance and to see how the starters are conditioned. We'll see if their stamina and mental toughness will hold up.