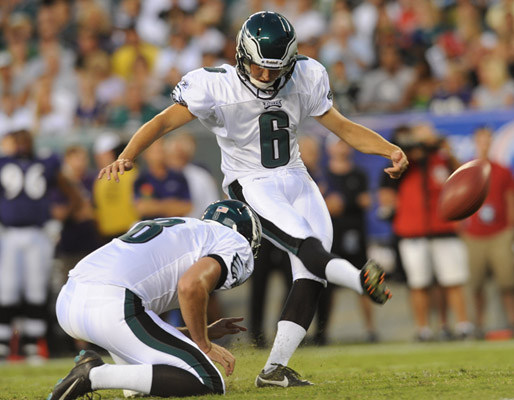 The Eagles will rely on rookies to lead their Special Teams this season. The special teams decision will be affected by the change in rules concerning kickoffs. Players like Eldra Buckley and Colt Anderson are not as valuable because so many kickoffs go out of the end zone, especially with a strong legged kicker like Alex Henery.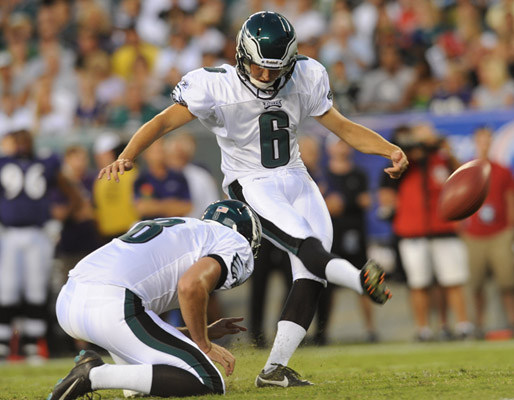 Alex Henery, Chas Henry, Jon Dorenbos, Johnny Lee Higgins – Of course rookie Henery will replace Pro Bowler David Akers as the team's kicker and rookie punter Chas Henry will take over for very Sav Rocca as the punter. They both have very strong legs, but they haven't kicked in the bad East coast weather in the winter. They must show they can do under the pressure.
Veteran Dorenbos remains the team's field goal snapper and punt snapper. Henry will hold for Henery and they'll will back each other up at their respective positions.
The coverage teams aren't looked upon the same way so Buckley and Anderson aren't as likely to make the football team. I could see the Birds using that extra special teams spot for a punt returner rather than a coverage guy.
Wide receiver Johnny Lee Higgins and cornerback Jorrick Calvin will battle it out for this punt return position. The Birds don't want to have to rely on DeSean Jackson to return punts all the time, so Higgins and Calvin will get the chance to return punts.
I see Higgins with somewhat of an advantage right now, but you never know.