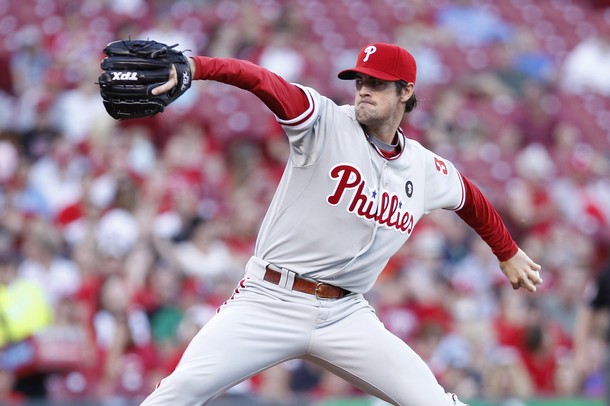 When Cole Hamels jogged out of the visitor's dugout at the Great American Ball Park, it was his first start since being sidelined with a dead-arm on August 12th. He was looking for his fourteenth win of the year but he left the game after sixth innings with a no-decision while giving up one run on two hits.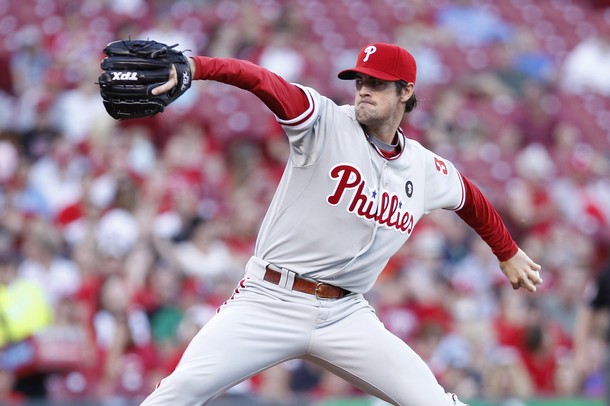 After opening the game with a strikeout of Brandon Phillips, the lefty got Dave Sappelt to chase a breaking ball in the dirt. Hamels hit all his spots and retired the first nine batters he faced in order.
Hollywood, as he is called by his teammates, entered the bottom of the fourth with just under 40 pitches and surrendered his first hit of the game. Phillips took advantage of a hanging cutter and sent a fly ball to right field that was misplayed by a falling Hunter Pence. The speedy second baseman cruised into third with his second triple of the year and was eventually brought home on a Joey Votto ground out.
Hollywood finished his outing by earning his seventh strikeout after Sappelt swung and missed on a changeup, which proved to be his go-to pitch for the night.
After the fourth inning, his velocity dropped causing his pitches to be up in the zone which are more hittable. His fastball averaged 90
mph but after topping out at 92, its velocity quickly fell. Hamel's fastball got as slow as 86 miles per hour causing the 27-year-old to rely on his elusive changeup to paint the outside corners in two strike counts.
Rich Dubee kept a strict pitching count on Hamels and pulled him after only 76 pitches. In a post game interview, the power pitcher told reporters he tried to make a case to stay in the game, but has never been able to change his coach's mind. "I don't think I've been able to sway him for six years," Hamels said. "I don't think I'll be able to do it any time soon."
The Philadelphia ace hurler did not allow any walks and looked much more comfortable on the mound than he had in his prior start earlier this month. He pitched five innings in the contest before being pulled for an inflammation in his shoulder, but said he felt no pain during his outing last night.
If any fans were worried about his injury, Hamels' performance quieted the critics. With Hollywood pain free and back in the rotation, the sky is the limit for this Phillies team.