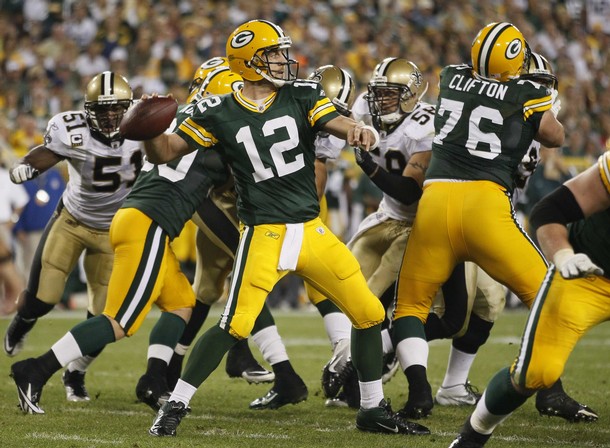 I don't know if you saw the Packers and Saints game last night, but the Eagles got the chance to see the competition for the NFC title and it's very formidable. There's no question that Green Bay is the team to beat in the NFC and New Orleans is also amongst the three or four elite teams in the conference.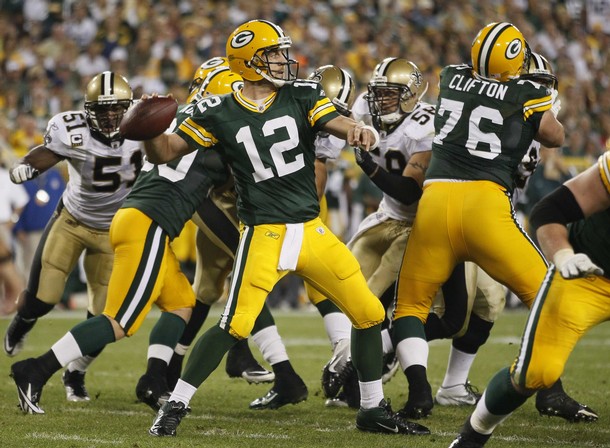 Super Bowl MVP Aaron Rodgers is probably a better quarterback this year than he was in 2010. He's got more weapons at his disposal and last night he was utilizing them like a great musician playing an instrument.
Thankfully, the Eagles defense will be able to use the entire regular season as preparation for a possible playoff battle with the Packers amazing offense. Rodgers confidence is running high and once he gets into a grove, his passing is nearly impossible to stop.
The Packers also showed they can run the football effectively with Ryan Grant and James Starks, who carved up the Birds defense in the playoff game a year ago.
The Birds defense has one of the few secondaries, which could match up against the Packers outstanding receiver group of Greg Jennings, Donald Driver, Jordy Nelson, Jermichael Finley and rookie Randall Cobb. Remember Finley and Cobb weren't there last year, so this group has improved.
Their defense didn't look very impressive against Drew Brees and the Saints offense, but they made the plays when they had to. Brees and his group took a while to get going but they had a chance to send the game into overtime on the last play, but Green Bay's defensive line stepped up with the game on the line.
The Eagles offensive line has a lot of work to do before they could handle the Packers defensive front, but that has to be their goal. New Orleans was able to spread the Packers defense out and pepper them with precision throws by Brees all night long.
Michael Vick should be able to do the same thing with his group of outstanding receivers, if and when he gets the opportunity and the Birds offensive line can give him the time.
I see four teams standing at the top of the NFC and that group includes the Packers, the Saints, the Eagles and the football team, which the Birds will play next week, the Atlanta Falcons. The Eagles should be the team of this quartet, which is able to make the most improvement during the season because so many of their players are playing together for the first time.
The Eagles must be focused on the Rams even if they saw the game last night, but we fans can look ahead and imagine how great a game an Eagles battle with the Packers could be. The best action movies always have a very impressive bad guy, the Eagles have a quite a challenge ahead for them in Green Bay.