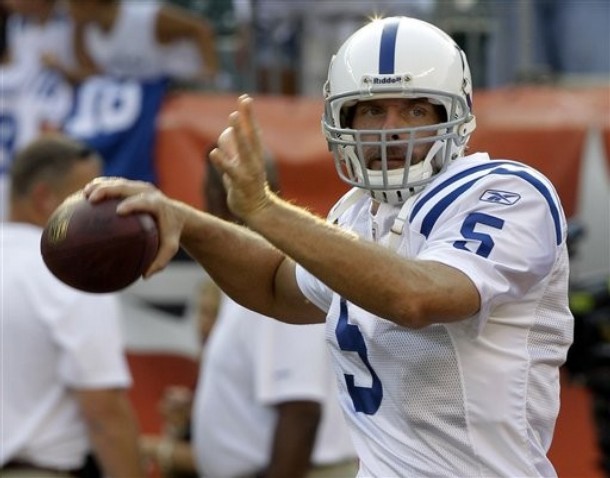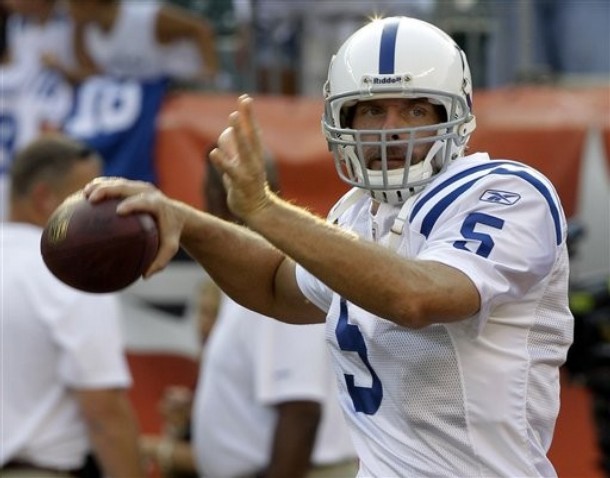 There's always going to be the guarantees in fantasy football (Tom Brady, Aaron Rodgers, Adrian Peterson), but what about the "hit-or-miss" type players?
The Fantasy Three Report will do a quick analysis of three randomly selected players and analyze their fantasy potential for the upcoming week. I will also attach ESPN's projections for the given player and say whether or not I believe they will go over or under their total.
QB Kerry Collins, Indianapolis
Maybe the ultimate "hit-or-miss" player this week, Collins will take over for the injured Peyton Manning in what will be an awkward moment for NFL fans. Why? The Colts haven't had anyone under center not named Manning for 227 straight games.
Collins is a serviceable quarterback, but probably won't do anything impressive. Then again, though, he does have some weapons to work with in Reggie Wayne and Dallas Clark, which possibly make him a decent start if you're weak at the position.
There are plenty of quarterbacks out there that you could start over Collins, one of which is probably on your team. But signing him this week could be a smart move because he could prove to be a solid point producer in the Colts' offense.
ESPN's Projections: 11 (Over)
WR Mike Sims-Walker, St. Louis
I have been a strong supporter of Sims-Walker ever since he joined the Rams this offseason. I believe he will be a great fantasy option this season.
However, I don't think Week One is a good start for him. As we all know, the Eagles are loaded with cornerbacks and with Nnamdi Asomugha, Asante Samuel and Dominique Rodgers-Cromartie all potentially covering him at some point on Sunday, I just don't like his fantasy stock this week.
ESPN Projections: 5 (Push)
WR Brandon Lloyd, Denver
Unlike Sims-Walker, Lloyd has a favorable matchup this week against an Oakland secondary that will be without Asomugua. With Tim Tebow not starting under center, Lloyd should be able to have a very productive season and opening week with Kyle Orton delivering him the ball.
Now that Denver has sidelined Tebow, expect Orton to be given free reigns to throw the ball as much as he wants, which leads me to believe that Lloyd will have many opportunities. I don't think he'll have as successful of a season as he did in 2010, but for this week, he will be one of the best options at the position.
ESPN Projections: 15 (Under – But not by much)