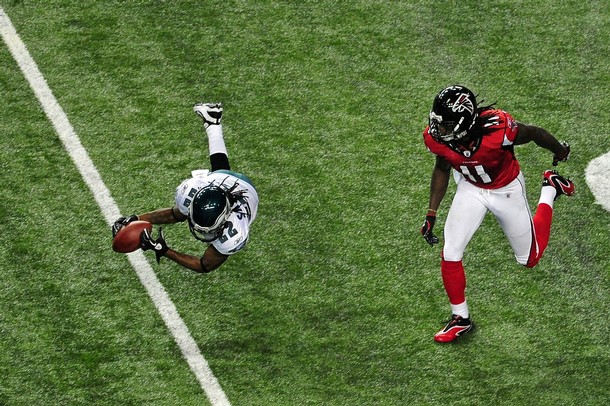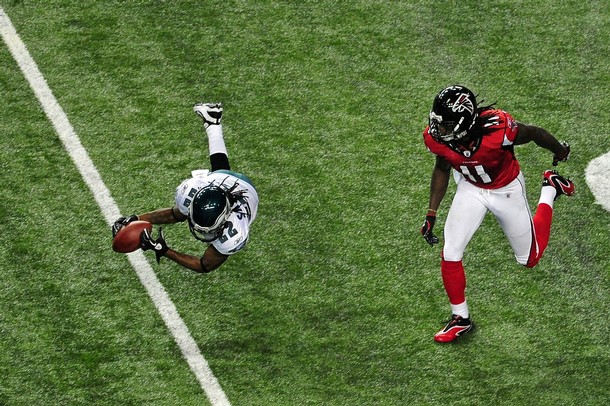 There are a few ways that you can look at last night's loss to the Atlanta Falcons. On the one hand, you can look at a team that dominated a good football team for three quarters. You see a team with a lot of potential that needs to iron some things out moving forward. On the other hand, you can see a mistake-filled game by a flawed team that has critical holes in important places. While the loss was painful because of how close the Eagles were to getting a big W on the road and being in the driver's seat after two away games, I still put myself in the former category. So, let's look at the game:
What I liked…
-Yes, we're all going to remember the crucial 4th down drop at the end of the game. Jeremy Maclin has to make that catch and he'll even tell you as much. But let's not forget that just a few weeks ago, this guy had a mysterious illness and no one knew when he was going to play again. This offseason he had lost a lot of weight and we didn't know what kind of game shape he'd be in to start the year. 13 catches for 171 yards and two TD's? Safe to say he's going to be okay? The drop aside, it's comforting to know that we don't need to worry about his health this year.
-I am the first person to rag on Jason Peters so it's only fair that I praise him after a great game. Not only did he do a brilliant job at left tackle last night, we didn't even know if he was going to be active for the game. Job well done, Jason.
-The offensive line as a whole is getting better. We can't expect it to be anything great for a while, so I'm just hoping to see progress and consistency.
-How good is Trent Cole? It's not just that he's an incredible pass rusher, he's a difference maker in all aspects of the game. It seemed like if Michael Turner was going to get popped in the backfield, it was because Cole torched Sam Baker and got back there in a hurry. And it's not just the tackles for losses and the sacks, did you notice how many times he simply bull rushed Baker back into Matt Ryan? Ryan was getting happy feet and couldn't get comfortable.
-This defensive line as a whole I'm very happy with. Cullen Jenkins could be the move of the offseason. He disrupts the middle and that destroys offenses. And this is definitely a different Jason Babin than the Eagles had last time. This front four is a game-changer for this defense. It past seasons it was solid-if-unspectacular (even that might be too much praise) tackle play from Bunkley and Patterson, see how long Cole can be great before wearing down, and rotate ineffective guys opposite Cole. Not anymore.
-This is what happens when you try to use your outside weapons with this defense. Nnamdi and Asante can hurt you bad.
-Credit to Tony Gonzalez. Still doing his thing at the age of 73.
-Peria Jerry might have been the difference in this game last night. His quick inside move to clip Vick's hand as he handed the ball off to LeSean McCoy (who was about to waltz into the end zone; there was no one in front of him) started a 14-point swing. Instead of 17-7, it was 14-10 Falcons.
-LeSean McCoy is elite. I'll say it. He actually makes East/West running work. He's that fast and that quick. He really doesn't need a ton of daylight and he creates it when there isn't any. He makes you cringe sometimes as he tries to get out of trouble, but he makes it work so often that you can't be mad.
-Have to be impressed with Mike Kafka. I keep hearing people say that if Vick didn't get hurt that the Eagles would have won the game. Perhaps that's true, but Vick doesn't play defense and Kafka was not remotely a contributing factor to the loss. He played extremely well and it looks like we might have to take our hat's off to Andy again for developing a young QB. Is he Drew Brees? Hardly, but that was a third-string QB out there last night playing quite well. Look around the league, some teams don't have one QB that can win football games. The Eagles likely have three.
…and not so much…
-That's some Red Zone defense! You know that, while he'd never say it publicly, somewhere Sean McDermott was on a couch in North Carolina with a wry grin on his face. In order to solve any equation, you can only have one variable. So, as different pieces are moved one at a time, you can eventually solve the problem. I'm not saying McDermott was a great defensive coordinator, but maybe he wasn't the big problem with the Red Zone defense. Hmmmmm….couldn't be personnel could it? Those awful linebackers and mediocre safeties couldn't possibly be the problem, could they?
-It wasn't just the Red Zone defense, the Falcons moved the ball at will in the fourth quarter. I don't know what degree of the blame falls on Juan Castillo, but I'm serving him a decent portion. I don't think he called a great game and when the Falcons needed to get it done, they did. Yes, the microscope is a little more intense for him since he has zero defensive coordinator experience at the NFL level and used to be the o-line coach. But it is what it is. And if Castillo fails in this role, his failure is 100% the responsibility of Andy Reid. I'm not calling it the Peter Principle yet, but I might if this continues.
-Michael Vick wasn't bad on Sunday night, but he needs to improve some of his decision making. He threw a few balls that he shouldn't have. And while I'm always quick to point out his recklessness and how it pertains to his own health, the concussion had nothing to do with him protecting his body. He just got rocked in the pocket.
-Hey DeSean, Larry Fitz catches that ball in the end zone. You have to catch that. Drops happen (just ask Maclin), but you'll get paid a lot sooner by catching that ball.
-I thought Jamar Chaney could cover tight ends. All I heard about all training camp was how he's the best cover linebacker the Birds have since Carlos Emmons. You sir, are no Carlos Emmons. He was on the scene the whole time with Gonzalez, but never made the play. Gonzo had his way with him. With the corners the Eagles have, look for teams to hammer away at the middle of the field against these linebackers and safeties.
-Kurt Coleman and Jarrod Page are just okay. They are average at best and not playmakers at all. I don't think they are horrific by any stretch, but they could upgrade here. Hey, what's Nate Allen up to? You don't know either? I think I saw him in the game a time or two, but how quickly has he fallen off? I'll give him a pass as he gets confidence back in his knee.
-Back to the linebackers, what's the over-under on how long it takes Andy Reid to admit that Casey Matthews can not play middle linebacker in the NFL in any way, shape or form? I don't think it's in this team's best interests to let him fight through his struggles. It's not just knowing the defense and making the right reads and reactions, it's a numbers game. He's simply not big enough or physical enough to get the job done. Unless getting the job done includes being blown off of blocks and shoved out of the play, creating a huge whole for anyone to sprint through. If that's the case then he's great.
-That wasn't an interception by the Falcons; that ball hit the ground. Still, I can't kill Andy for not challenging it because I don't know what replays they got to see before the ball was snapped. I know I didn't see it on replay until about the fourth or fifth angle, and then Ryan snapped the ball. So I might be giving Andy a pass on not getting the challenge flag out. Then again, he's so bad at it anyway, might as well chuck the red flag and see what happens. Not like you're careful with timeouts anyway.
-I'm livid with Vick for holding that ball with one hand past the line of scrimmage. He should know better, he's been a running QB for how many years of his life now? I could see if it's a QB that isn't comfortable running with it, but Vick pretty much has made his living that way. He should know better than to carry that ball with one hand. Careless. I get frustrated because $100 million QB's shouldn't be careless and reckless, and he can be at times. You're better than that, knock it off.
-I think Matt Ryan may be a really good QB in this league, but he's not in the upper echelon. He's a nice player, but let's shelve the Mattie Ice nonsense. Maybe do something in the postseason first.
-Dunta Robinson can say what he wants, but that was a dirty and illegal hit on Maclin. Luckily, Maclin saw it just in time to avoid it somewhat. But, c'mon. He clearly launched into Maclin with his head. I'm not ready to say Robinson is a flat-out dirty player, but that play looked like it had bad intentions.
Overall, it is what it is. It's a tough loss and the Eagles have no one to blame but themselves. Stupid mistakes and breakdowns ultimately led to their demise. Not taking anything away from the Falcons, but I don't see them as this big, bad NFC team that the Eagles can't beat. Not by any stretch. But remember, we're supposed to expect these kinds of things from this team early in the year as they get used to one another. That said, they should have won the game. Go get ready for the Giants.