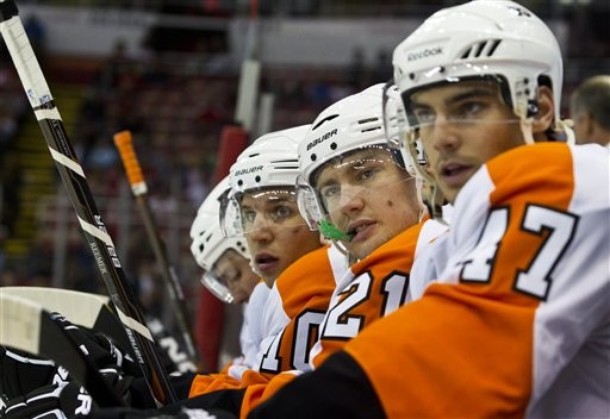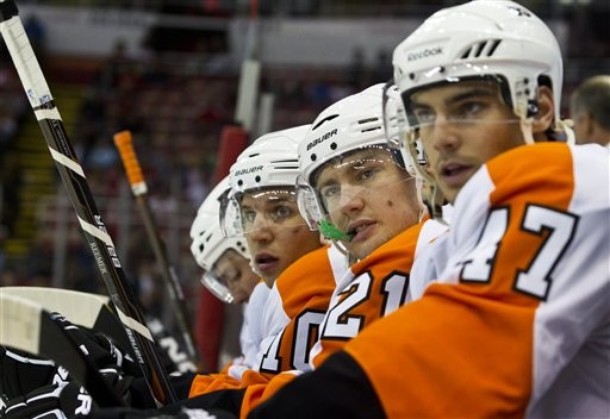 **Editor's Note: The Flyers announced on Sunday that they have released Adam Mair and Michael Nylander from their professional tryouts. Mair played in one preseason game but did not play strongly enough to force a current fourth liner from the roster.  Nylander had been set back in camp early with a lower body injury and did not play in any preseason games. There are 36 players left at camp.**
 The Flyers have returned seventeen players to the Adirondack Phantoms as well as placed five players on waivers (who, should they clear, will also return to the Phantoms). Among those returned are Eric Wellwood and Ben Holmstrom, who less than 24 hours ago I thought stood the best opportunity to make the big club after displaying their strong defensive play.
The other returned forwards are Mike Testwuide, Jason Akeson, Tyler Brown, Tye McGinn, Shane Harper, Luke Pither, Garrett Klotz, and Garrett Roe. As mentioned yesterday, Testwuide's game misconduct in the 3-1 win against the Detroit Red Wings may have factored into the decision to send him down.
Defensemen Marc-Andre Bourdon, Kevin Marshall, Tyler Hostetter, Blake Kessel, Cullen Eddy and Oliver Lauridsen were sent down. Marshall and Bourdon will both be restricted free agents at the end of the season, and their chances of making the NHL have become slim heading into the final year of their contracts.
Goaltender Brad Philips, who is on an AHL only contract and is expected to play in the ECHL, was also returned.
Additionally, TSN has released a list of all players placed on waivers today. The Flyers have placed on waivers forwards Jon Kalinski and Stefan Legein, defenseman Dan Jancevski, and goaltenders Johan Backlund and Jason Bacashihua.  If the Flyers elect not to buy out Johan Backlund's contract for emergency purposes (such as when the team had to sign Sebastian Caron two years ago when none of the goalies could stay healthy), then, as many including HockeyBuzz witer Bill Meltzer have suggested, he could be loaned to a European club for the time being.
For the remaining players in camp, the 7th defenseman and 12th/13th forward positions are the areas to watch. Tom Sestito, Zac Rinaldo, Sean Couturier and Harry Zolnierczyk are among the forwards left who are competing for that position. 
For the latest Flyers news and updates, you can follow me on twitter (@JoshJanet).