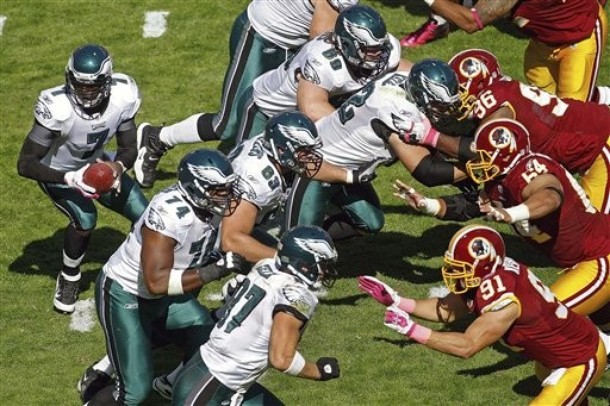 There were a lot of concerns about how the Eagles matched up with Washington Redskins outside linebackers Brian Orakpo and Ryan Kerrigan. The two Redskins pass rushers and their solid defense were considered the strength of the football team.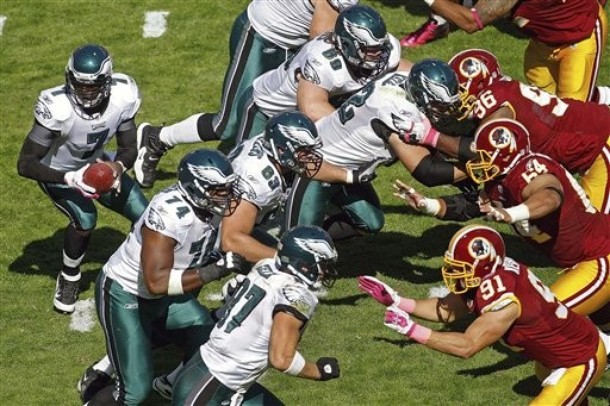 Starting left tackle Jason Peters was sidelined because of a hamstring injury and his backup, King Dunlap was incapacitated by back spasms. Injuries had depleted the Birds offensive tackles so much so that they were going to battle with former left guard and current right tackle Todd Herremans moving back to the left side to play left tackle versus Orakpo.
Herremans' value to this football team is hard to overemphasize. He saved the coaching staff at the beginning of the season by moving to right tackle and playing like he's been there for three years. Now they needed him to make another move.
At right tackle the Birds were forced to go with Winston Justice, who is still recovering from off season knee surgery. He hadn't played a down so far this season. Justice would have to do battle with Kerrigan, who is having an impressive rookie season.
It wasn't a perfect performance but the Eagles offensive line got the job done. They gave quarterback Michael Vick the chance to get into a groove in the first half and help the Birds march out to a 20-0 lead. They also did a good job of opening holes for LeSean McCoy, as he ran for 126 yards and put the game away in second half by running for two first downs with the clock headed toward 00:00.
Orakpo and Kerrigan were unable to get to Vick all day long. The offensive tackles helped get movement at the point of attack for the running game and Herremans moved to tight end on the goalline and cleared the way for McCoy on his one-yard touchdown run over the left side. I don't know what else they could ask Herremans to do for this football team.
Justice also deserves a lot of credit for getting ready to play.
"I was proud of him," head coach Andy Reid said. "Those two defensive ends are really good players, and Todd moving over and having to do that on the left side, that's not an easy thing to do, so I'm just proud of how they all rallied, and they really didn't care who went in and played, they just played."
"I think Winston did an exceptional job today at right tackle," Herremans said. "He went out there and grinded today, and I'm just proud of all the guys up front. We've been through a lot, and just us sticking together as a group. It was a good one today."
"I felt great," Justice said. "It was like riding a bike. When I got out there, it was like I had always been out there."
Herremans had the classic block of the game, when he ran over Skins safety Oshiomogho Atogwe. He flattened him like a steam iron going over some jeans.
"They can stick me wherever they want, I guess," Herremans said. "Like a Band-Aid. "I'm comfortable anywhere, It's at the point now where I think I know the offense good enough and Howard's technique, I don't think switching positions is really that big of a deal."
The bye week comes at the perfect time for the offensive line. It will give left tackle Jason Peters the chance to recover from his hamstring injury, as well as allowing Dunlap the chance to deal with his back spasms. They will come out of this with more depth and flexibility than they've had in a long time.