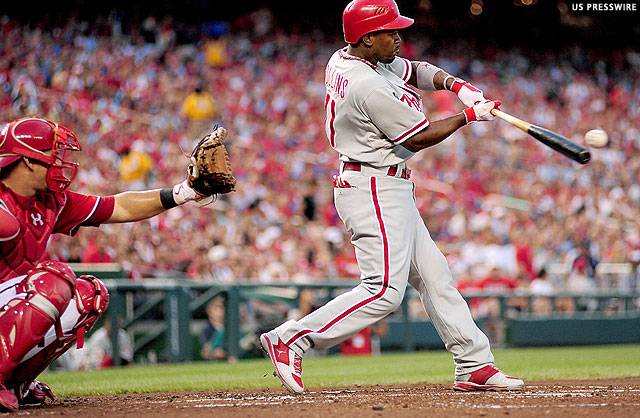 When a team fails to live up to the lofty expectations set by management and fans alike, change and turnover is inevitable. That is exactly the situation the Philadelphia Phillies find themselves in after quietly bowing out to the National League Champion St. Louis Cardinals in the NLDS.
The biggest questions surround the state of the infield. So, what should happen during the offseason for the Phils' core group?
Let's go around the horn and start with the void left by Ryan Howard's torn Achilles tendon. Howard, who suffered the devastating injury on the final at-bat of the 2011 season, could be out until mid-season. Well then, who takes his place until the Big Piece returns?
The most obvious choice is John Mayberry, Jr. I like this option. I like it a lot. Mayberry blossomed throughout the course 2011 season and showed he has the power and skill to be an everyday player. Now, he'll get that chance, not in the outfield, but at first base. He played the position at times during the season so it won't be totally foreign to him.
The person that Howard's injury most inadvertently affects is Domonic Brown. We can assume that Raul Ibanez won't be back in an everyday role. With that in mind, we would have penciled Mayberry in that left field spot. With Mayberry moving to first, Brown will once again have a shot to live up to the hype that, quite frankly, he hasn't lived up to yet.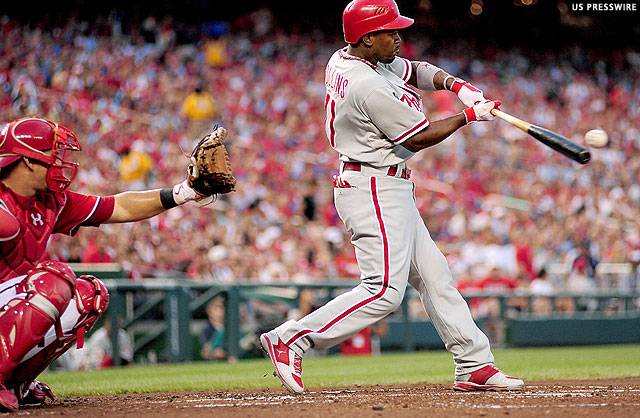 After missing the first quarter of the 2011 season, Chase Utley returned to his second base position and his knee injury has reduced his power numbers, so much that he was demoted to hitting second in the lineup during the playoffs. For the 4th year in a row, the second baseman saw his average decline. He hit .259 for the season, which isn't any thing to write home about.
While I said I would use Mayberry in that spot, Utley is certainly an interesting option, but that we mean the Phils would be desperate for power somewhere else in the infield. He does have limited experience in that position plus, compared to second base, first base isn't as physically demanding defensively as second base is. We all know the constant worry with Utley is the injury factor, even more so with the knee injury. If it were to happen, I would expect to see Michael Martinez and/or Wilson Valdez at the second base spot.
Now to the huge elephant inside Citizens Bank Park: Jimmy Rollins and his contract situation. The Phillies NEED to re-sign Rollins. There is no one in the minor leagues that is major league ready to play the position, Martinez and Valdez won't cut it everyday, and the free agent class, outside of Jose Reyes, is pretty thin. Sorry to burst your bubble, but they aren't signing Reyes. Rollins is the guy for the Phils.
While they need to sign J-Roll, the Phillies need to do it on their terms, not on his. He may have lost a few steps offensively but he is still a defensive wizard. His range and arm are just phenomenal. For my money, he's the best defensive shortstop in the game. But the chances of him getting a five-year contract from the Phillies are the chances of me becoming the King of England. It's just not going to happen. If I were Ruben Amaro, I would offer good money but for three years and a team option for a fourth year. It's fair value for a guy that will be 33 years old when the 2012 season begins in April.
To me, third base is the wild card position. When he's healthy, Placido Polanco is a consummate pro. He's a perennial .300 hitter and a Gold Glove caliber defender. He was an All-Star this past season when he was healthy during the first half of the campaign. The problem is keeping him healthy. His first two seasons back with the Phils have been marred by injuries that have significantly affected his performance. When I say significantly, I mean a 2-19 NLDS performance.
Some say the Phillies need to improve at third base. I don't see it that way. I'm a Polanco guy. Again, the both the minor league system and free agent market are thin. (Aramis Ramirez has a team option for 2012 so keep dreaming) (http://mlbcontracts.blogspot.com/2001/04/potential-free-agents-for-2012.html). I see the Phils letting the 36 year-old Polanco play out the last year of his contract and playing it by ear. That being said, I also think you will see Michael Martinez see more frequent time at third. The reason for that is twofold. First, they will be giving Polanco more and more days off. Second, they will want to see if Martinez has what it takes to eventually take over at third. An interesting issue, but I see it as more of a problem for the 2012 off season than right now.
There is one thing we all have to remember though. Ruben Amaro, Jr. is the guy running the show. He may pull some crazy trade out of his back pocket and make my arguments all moot points. With the money this team is spending already, I don't see any trades happening but who knows? This is how I would do it. Let me know what you think and what you would do if you were in charge.