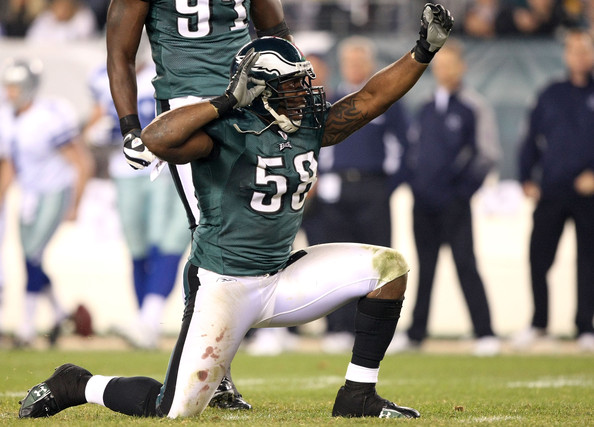 While the Eagles and their defensive line still allowed 8.5 yards/carry on defense, their enormous offensive output allowed that defensive line to focus on its best skill—rushing the passer. The defensive line, sparked by the return of pass-rush extraordinaire Trent Cole, had 4 sacks and countless quarterback pressures that disrupted the rhythm of Cowboy's quarterback Tony Romo.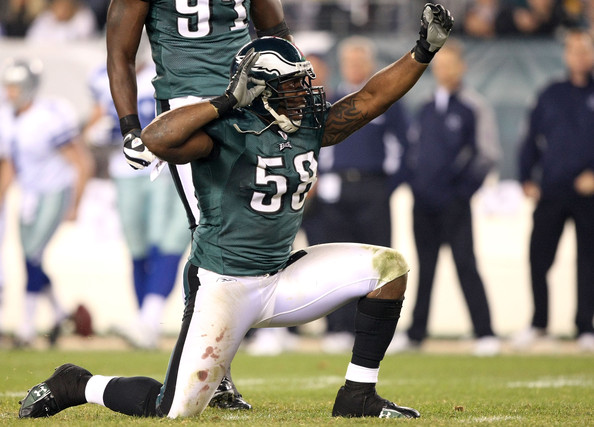 Returning from a calf injury, Trent Cole allowed the rest of the defensive line to be free of double teams. This was clearly evident from the first Dallas drive of the game as Jason Babin and Trevor Laws both had sacks that sent Dallas to a quick exit on offense after just 5 plays and 3 minutes on the field.
Cole even had a sack of his own in the 2nd quarter. Often times, Cole got solid pressure on Tony Romo and forced one of his many off-target throws. When Cole wasn't able to get to the quarterback, someone else on the defensive line stepped up to pressure Romo. Cole's biggest contribution was certainly the attention he garnered. While not having to face any double teams this game, Jason Babin recorded two sacks and had numerous quarterback pressures. Cullen Jenkins and Mike Patterson were able to generate pressure up the middle from the defensive tackle positions which forced Romo to often have to hurry throws—with little success.
On most of his throws, Romo was forced to move around in the pocket and it showed as he had one pass picked off by Nnamdi Asomugha, numerous underthrown passes, and completed only 51.4% of his passes. When an off-sides penalty on Cullen Jenkins is the worst play by the defensive line all game, you know they were clicking on all cylinders!
All in all, it was a very good effort by the defensive line and with Trent Cole back in the fold, look for him to continue getting nearly one sack in every game he plays and don't be surprised if Babin challenges Reggie White's single season record of 21 sacks. If he keeps up his current pace, Babin would finish with over 20 sacks. This defensive line could go down in history as one of the best in team, and NFL history.