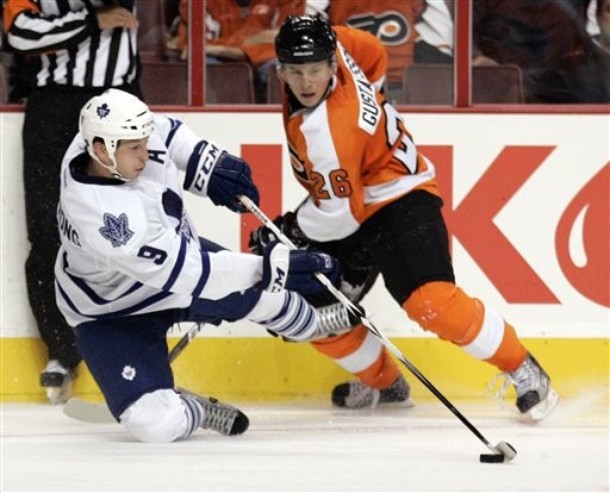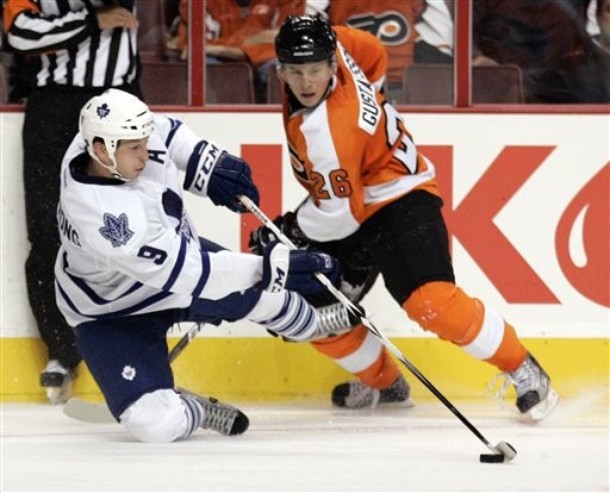 Ryan Bright of Philly Sports Daily wrote a story on Monday about the success that the Flyers have found with recent undrafted collegiate free agents Erik Gustafsson, Harry Zolnierczyk and Matt Read.  It's a good post with a nice quote from coach Peter Laviolette about Gustafsson following Saturday's annihilation of the  Blue Jackets, but it glosses over the method by which the organization has chosen to collect talent in recent years by shining a light on this season's recent short-term successes.
Gustafsson, who was an AHL all star last season and appears to have jumped Andreas Lilja and Matt Walker on the depth charts, has developed into one of the Flyers' best blue-line prospects.  His 23:00 of ice time and +6 rating on Saturday suggest he has was it takes to stay in Philadelphia for an extended period of time.  He was signed around the same time as undrafted free agent goaltender Brian Stewart, also from Northern Michigan University, but Stewart was let go after last season and is now splitting time between the Elmira Jackals of the ECHL and the Binghamton Senators of the AHL.
Read and Zolnierczyk have each shown in limited games with the Adirondack Phantoms that they are capable of producing at that level;  Zolnierczyk already has 5 goals and 9 points in 10 games this season.  Read's game includes a strong defensive prowess as well as scoring ability while Zolnierczyk is a relentless forechecker in the style of Darroll Powe.  However, both have only played 37 games a season at the collegiate hockey level, and it's still a question mark whether they have the endurance to continue their success for an entire season.
Additionally, if you look at Read's 3 goals and 7 points in 11 games, it looks impressive until you realize that 5 of those points occurred in 2 games against the New Jersey Devils (a relatively easy 2-0 win) and Ottawa Senators (7-2 blow-out).  Similarly, Zolnierczyk's 2 points for the Flyers occurred in the Ottawa game as well as the Blue Jackets 9-2 drubbing.
The best phrase that Bright could have coined in his post is "serviceable mediocrity."
These players have been utilized in such small sample sizes that it's incredibly premature to equate short-term success with "paying dividends."  It's such a crap shoot in general that these players continue to develop that it becomes a pleasant surprise when one or two appear to actually have what it takes to stay in the NHL.
If we're going to endorse these three players prematurely, why not mention Ben Holmstrom?  Holmstrom, who was signed in 2010 from UMass-Lowell, was recalled last week and received only 4:57 of ice time in the 3-2 win against the Buffalo Sabres.  He was promptly returned to the Phantoms, where he has 4 assists through 9 games this season.
How about Mike Testwuide, signed from Colorado College in 2010?  He could have arguably replaced Zolnierczyk in the Flyers line-up and had similar results, but he continues to be forgotten.
Do casual Flyers fans know that Andrew Rowe, signed from Michigan State University at the same time as Gustafsson (suggesting the Flyers have a very active scout in Michigan), is currently injured and hasn't had a chance to show he is more than just an ECHLer?
Even if these players perform well at the AHL level, there's no guarantee for crossover success.  Former Phantom Jared Ross, an undrafted collegiate free agent from the University of Alabama-Huntsville, put up 62 and 69 point seasons with the Phantoms but could never earn a permanent stay in the NHL.  The only goal he's ever scored at the NHL level occurred in Game 3 of the 2008-09 Eastern Conference Finals loss to the Pittsburgh Penguins.  He is currently playing in the Deutsche Eishockey Liga (DEL).
It would be unbelievably satisfying if these players could carve out future careers with the Flyers, but until enough time has elapsed to pass proper judgment, it's best to value these players as Bright himself termed them- "serviceable mediocrity."