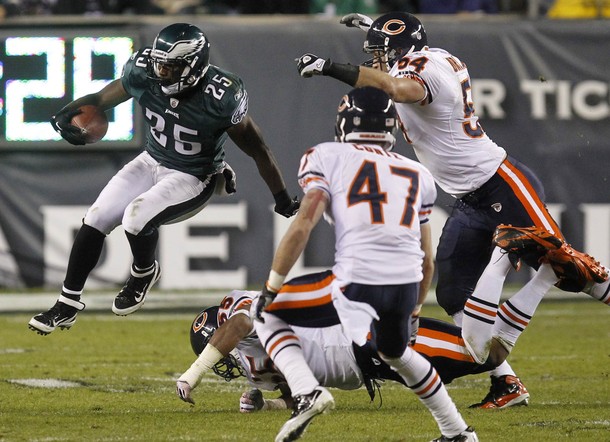 The stars were out on Monday night when the Philadelphia Eagles hosted the Chicago Bears. LeSean McCoy and Matt Forte came into Monday's game as two of the top 5 backs in almost every major rushing category.
The Bears got the ball to Matt Forte early. On their opening drive, the league's yards from scrimmage leader accounted for 52 yards on a drive that resulted in 7 points and the early lead for Chicago.
There were times that the Eagles could contain Forte. For a stretch in the second half, Forte was benched in favor of Marion Barber after losing two fumbles, one of which was returned 22 yards for a touchdown by Brian Rolle. Ultimately, the former Tulane superstar had the last laugh. He finished with 133 rushing yards on 24 carries (5.5 yard average) including runs of 14, 17, and 25 yards.
Forte came into Monday's game as the second leading receiver among running backs, first in yardage production in the passing game. With the exception of one ten yard catch, the Eagles defense did a good job of eliminating him and Marion Barber from the pass game.
Forte's game, as well it should be, was overshadowed by his two lost fumbles. Forte hadn't fumbled the ball this season until Monday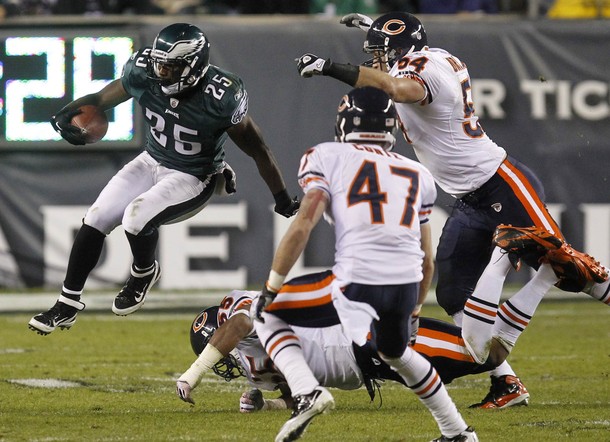 night. His last fumble was on October 24th, 2010 against the Washington Redskins. Forte had had 347 touches between that fumble and his fumble that came during a Bears two minute drill attempt to close the first half. The last time Matt Forte fumbled twice in one game was in week one of 2010, 421 days ago.
In the fourth quarter, when the Chicago Bears were trying to comeback from a 4-point deficit, Matt Forte averaged 4.6 yards per touch on his 8 touches, accounting for 37 yards. Usually LeSean McCoy is the running back who delivers the final blows in the fourth quarter, but McCoy was given the ball just three times in the fourth quarter after having 108 total yards in just 3 quarters.
After a 180-yard performance, one would think that an offense would feed their Shady the ball and watch him go to work. However, the Eagles coaches never do what is expected. On their opening drive, McCoy was given the ball just one time, a run for a loss of four yards.
McCoy saw those losses quite a bit. Six of his sixteen carries went for zero or negative yardage, totaling up to a loss of 14 yards. On McCoy's remaining ten carries, he ran for 85 yards, an impressive 8.5 yards per carry average.
Vick also hit his running back five times out of the backfield for 46 of his 213 yards. McCoy's five receptions were his second highest total this season and fourth most in his career.
With 5:52 remaining in the third quarter, the 2009 second round pick made Eagles history. By taking the handoff 33 yards for the touchdown, McCoy tied Steven van Buren's record by recording a touchdown in eight straight games. With nine rushing touchdowns this season, McCoy is on pace to break Steve van Buren's franchise record with fifteen rushing touchdowns in a season.
Still the game was a disappointment because it was a loss. "Being right there and having a chance to win at the end no matter how bad we played, but to have a chance to win a game is tough", McCoy said afterward. "Because with our offense, there are so many good players we take it personal and on our shoulders when we don't score. It's got to get better."
As expected, these two running backs shined in their own lights on Monday night. The Eagles spotty defense were the ones who let this game go. McCoy did his part in this matchup against a tough, physical Bears defense on only 19 touches. The future looks dim for the Eagles; one of the only bright lights is the 23-year old running back.