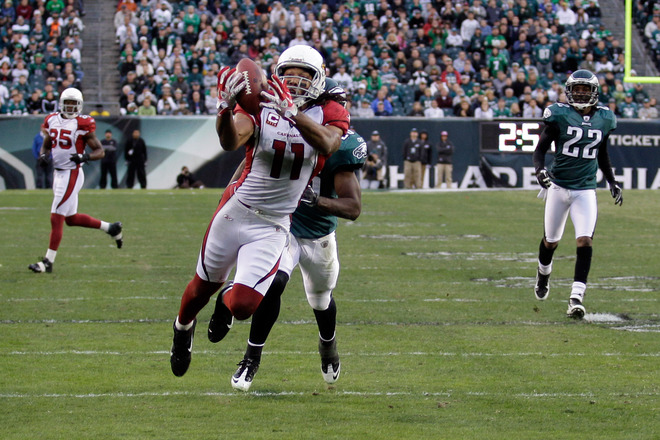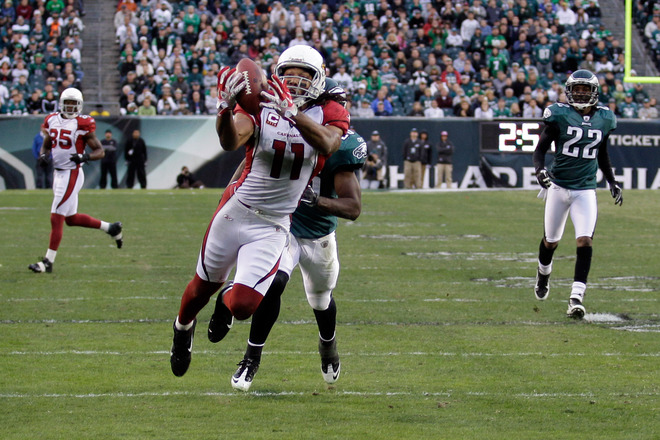 Another fourth quarter lead. Another loss. It is a tale all too familiar for Eagles fans this season. This one though, may have finally ended the "Dream Team's" once promising season. The offense, led by an erratic Michael Vick, could not sustain drives and failed to take enough time off the clock in crunch time. But this loss was not on them.
The defense, which did its job for most of the day, could not make a stop when they needed it most. The Cardinals were able to move up and down the field for two touchdown drives of over 80 yards in the final quarter, led by John Skelton. Yes, John Skelton. Shades of Joe Webb torching the Eagles defense last season came to mind watching the Cardinals quarterback throw for over 300 yards and three touchdowns.
In the end, the unit with the most heralded cornerback corps and two of the most disruptive defensive ends in the league failed to make a play that could have kept the Birds' season alive.
Defensive Line
The Eagles' defensive line could serve as a microcosm of the team's season. Flashes of brilliance and domination occur, only to be overshadowed by lapses of disappearance and mistakes. Trent Cole had 4 tackles and a sack, but committed a killer roughing the passer penalty on a possession that eventually ended with an Arizona touchdown. Cole may still be laboring from a calf injury that kept him sidelined for two weeks. His typical explosion off the line and relentless pursuit have been lacking recently.
On the other side, Jason Babin, who entered the game with nine sacks, had zero tackles and no positive impact on the game. His encroachment penalty in the second quarter was helpful to the Cardinals, though. On a serious note, this lack of production is unacceptable for a player who signed a five-year, $28 million contract this offseason.
Neither Cole nor Babin could produce enough pressure on Skelton to force many mistakes. The Cardinals' massive starting tackles Levi Brown and Brandon Keith were able to keep the pass rushers at bay. In the last two weeks, the talented duo of defensive ends has recorded a combined one sack. In Philly's last win against the Cowboys, they combined for three.
Another high-priced free agent, Cullen Jenkins, had two tackles for loss and played a solid, but unspectacular game. Jenkins, like most Eagles fans, has no idea why the team cannot hold on to late leads. He pondered, "It just seems once we're getting down there, things are going good. It's almost like we're expecting it to stay that way. I don't know. I'm sure what the attitude is, but we just can't seem to get ourselves out of a funk when we get in one." Clearly, this team lacks the attitude and leadership to succeed.
Surprisingly, the most productive defensive lineman was journeyman Derek Landri. Landri, a tackle, recorded two tackles for loss and a sack. His constant energy and pressure throughout the game should earn him more playing time in the future.
Linebackers
No matter whom the Eagles plug in to play linebacker, it does not seem to help. This week, Akeem Jordan got more time on the field. Too bad he did not do much with it. His six tackles and zero big plays made his presence forgettable. Moise Fokou was even less effective, managing only one tackle all game. Whether it is Nate Wayne, Chris Gocong, or Ernie Sims, the Eagles have not been able to put productive outside linebackers on the field under Andy Reid. This may be due to Reid's ignoring of the position in the draft. The Eagles have not drafted an outside linebacker in the first two rounds since Quinton Caver in 2001.
Middle linebacker Jamar Cheney, though, was the sole linebacker to show up against the Cardinals. He recorded two tackles for loss, including a sack, in finally creating pressure in the backfield by a non-defensive lineman. The sack was the first for an Eagles linebacker all year. The second year man out of Mississippi State was also reliable in pass coverage, defending one Skelton pass. Cheney's six solo tackles were tied for second-most on the team.
Secondary
Despite some success, the Eagles secondary was victimized by one of the best receivers in the game in Larry Fitzgerald. The Cardinals, who move Fitzgerald all over the field, were able to get him favorable matchups with rookie safety Jaiquawn Jarrett and nickel cornerback Joselio Hanson. The All-Pro took advantage of these matchups to the tune of seven receptions for 146 yards and two touchdowns.
The Eagles' starting cornerbacks Asante Samuel and Nnamdi Asomugha did their job in slowing down Fitzgerald and creating turnovers. Both players blanketed the star receiver when matched up with him, but the Eagles' zone defense made it hard to have one of them covering him every play. Regardless, these two high-profile players did what they were supposed to.
Asante's 20-yard interception return for a touchdown accounted for half of the Birds' points. This is mind-boggling. He defended the Arizona receivers well, and he even made a tackle! His partner-in-crime Asomugha also picked off John Skelton and put the Eagles in position to kick a tie-breaking field goal with less than seven minutes left. We all know what happened after that.
Safety Kurt Coleman led the team with eight solo tackles, including one for loss. The second-year player out of Ohio State put together another solid game and seems to have solidified his starting spot. Coleman knows the Birds must fix their late game swoons. He said, "I don't know, we have to regroup and we have to figure out what's going on. We have to stop it right now. This is ridiculous. We have to stop whatever we're doing wrong and correct what's going wrong."
Even though the players realize how troubling their fourth quarter collapses are, they have not been able to fix them. With five blown leads in the final fifteen minutes, it is easy to think about what may have been. The "Dream Team" prophecy may have actually come true. The playoffs may have been a real possibility. Who knows, the team may have even had a .500 record. Sadly, the Eagles problems closing out games are real and none of those dreams have come true. A season that started with aspirations of a trip to Indianapolis for Super Bowl XLVI has now become a season of lost hopes.
John Skelton. Really?