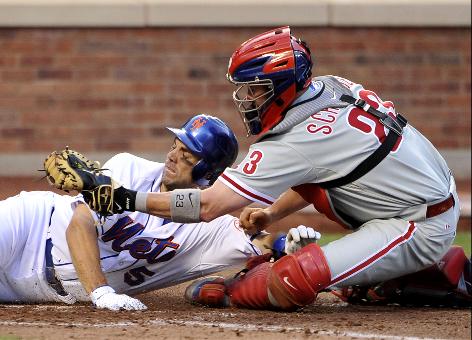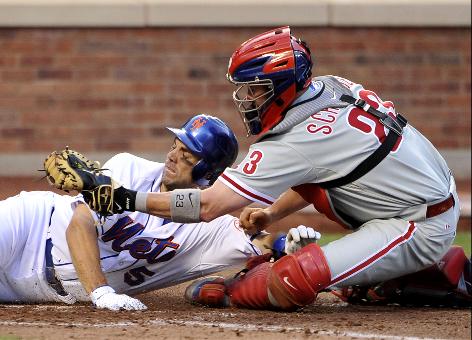 Brian Schneider agreed to a one-year 800-thousand dollar contract that will bring him back to Citizens' Bank Park next season.
This move won't turn many heads, but from a strategic standpoint needed to be handled early in spring training.
Schneider isn't going to blow your mind with his stats; he batted under the Mendoza Line for the first time in his career last season and only drove in nine runs in 41 games.
The Phillies could have easily upgraded their backup catcher, but they didn't. They know that the soon-to-be 35-year-old is the right guy for this position.
People tend to underestimate the importance of having a catcher who can call a good game. Carlos Ruiz calls one of the best games in baseball, but what about the other 41 games? Charlie Manuel wanted to make sure he had a catcher smart enough to fill in for Ruiz under contract.
Last season when the NL East journey man crouched in front of the umpire the Phillies had a 28-6 record. Schneider isn't going to hit for average and will rarely throw out a base runner (3 of 23 base runners), but when he starts flashing the pitcher signs, something makes the Phillies win.
Not only is Schneider intelligent about the game of baseball, he has spent his entire career in the NL East and with his 13th season around the corner, he better know all his opposing teams inside and out.
He has played for the Mets and spent a majority of his career playing for the Expos and Nationals. But growing up as a Phillies fan, his career wasn't complete until he put on the red stripes before the 2010 season.
Schneider is entering his third year with the Phils and after a decent first year fell off the wagon this past season.
In his prime, he was regarded as one of the better defensive catchers, but age has worn on his ability to field the position. That being said his agility may be gone, but his experience makes him one of the best pitch callers in the game.
Schneider has made up for his weak hitting in the field his entire career and Philadelphia appreciates the intelligence he brings to the position.
Whether last year was luck or skill is up for debate. But if one thing's certain, when Schneider's name is announced during the starting lineups, the Phillies win.