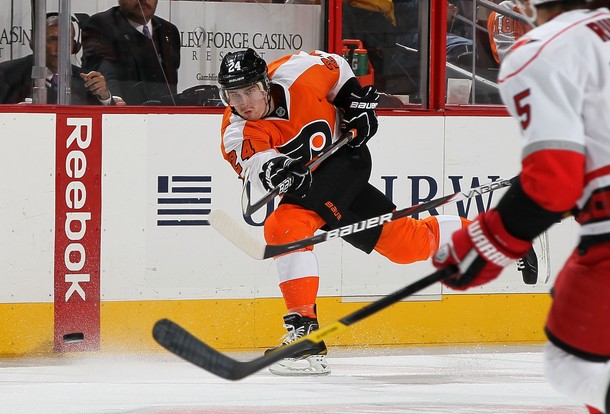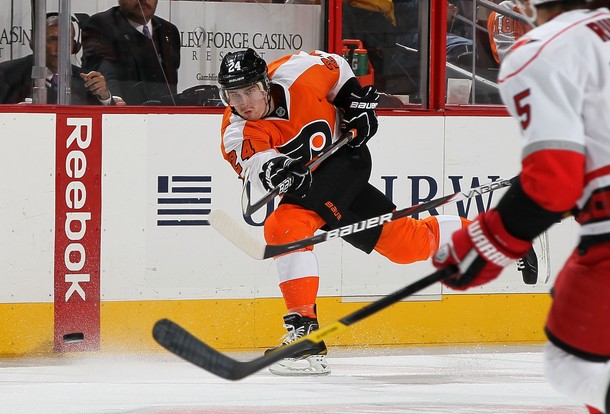 At nearly the quarter mark of the 2011-12 NHL season, there has been a lot of discussion over whether Matt Read could be a Calder Trophy winner come June.  I've already written how it would be wise to take deep breaths before making such bold statements, but it's certainly a distinct possibility.
Among all NHL rookies, Read is currently the leader in goals scored (8) while in 4th place for points (13) and 5th place for assists (5). This was accomplished in just 16 games played, where Read is tied for 2nd place in +/- with Erik Gustafsson (Sean Couturier is in 1st).
According to hockey statistics site Behind the Net, Read is 10th among Flyers forwards in even strength time on ice (TOI)/60 but ranks 1st in even strength goals per 60 minutes (2.52) and points per 60 minutes (3.60).
If Read truly is the running for the Calder, though, who are his competition?
Ryan Nugent-Hopkins, the #1 overall draft pick in 2011 for the Edmonton Oilers, is currently the front runner.  He is leading all NHL rookies in assists (12) and points (19) while 2nd in goals scored (7).  He recorded five of his assists on Saturday night in Edmonton's dismantling of the Chicago Blackhawks by a 9-2 margin.  According to NHL.com, this makes the 'Nuge "the first 18-year-old in NHL history with five assists in a single game, and only the fourth 18-year-old ever to have a five-point game."
Craig Smith of the Nashville Predators is following Read and Nugent-Hopkins closely in goals (7), assists (8) and points (15). Drafted by the Predators #98 overall in 2009, Smith has found success on a third line with fowards Colin Wilson and Patrick Hornqvist.  He recently made headlines for missing an empty net goal from about four feet out.
Luke Adam of the Buffalo Sabres is another forward who has seemingly come out of nowhere, much like Read and Smith.  Adam is centering the top line with Thomas Vanek and Jason Pominville, following Ville Leino's failure at the center position.  Adam is either in line with or one point behind Smith in goals, assists, and points.
Among Read, RNH, Smith and Adams, Read ranks last in even strength TOI/60 while 1st in G/60 and P/60.  He is seeing the 2nd most amount of powerplay time but is the lowest contributor in that department (2.77 P/60), compared to RNH (8.59 P/60) and Smith (6.22P/60).
Where Read truly shines is in his utilization as a defensive minded forward.  None of these three alternate candidates see any time on the penalty kill and RNH is the only other forward with a positive +/-.  Read, on the other hand, is on the Flyers' top PK unit.  Read's versatility in all situations makes him arguably more valuable than his competitors, provided he can maintain a comparable pace in goals and point scoring as the season continues.
A sleeper nomination is Ryan Johansen of the Columbus Blue Jackets.  Drafted #4 overall in 2010, he started the season in-and-out of the line-up despite being arguably one of their best forwards.  Should the Blue Jackets manage to turn around their season soon (and by all accounts, they are slowly righting the ship), Johansen could end up on the Calder nominations list late in the year.
I would consider Buffalo Sabres goaltender Jhonas Enroth to be a valid Calder candidate as well if it were not for the fact that Ryan Miller, when healthy, will likely earn the majority of starts.  As Miller is currently out indefinitely with concussion issues after being steamrolled by Milan Lucic, Enroth is a player worth watching.
Much is being made of the fact that the Flyers have never had a player win a Calder Trophy.  While this could perhaps be an intangible factor in the voting process, it is worth noting that neither the Edmonton Oilers nor the Nashville Predators have either.
The reality of this discussion is that there's an entire season still to be played.  Taylor Hall of the Oilers was considered a lock last year, but an ankle injury sustained after deciding it was a good idea to fight Derek Dorsett kept him out of the final nominations list.  Let's check back after 40 games to see how these trends hold up.
For the latest Flyers news and updates, you can follow me on twitter (@JoshJanet).