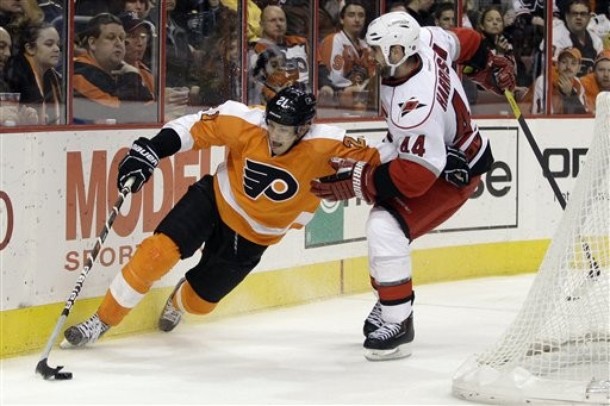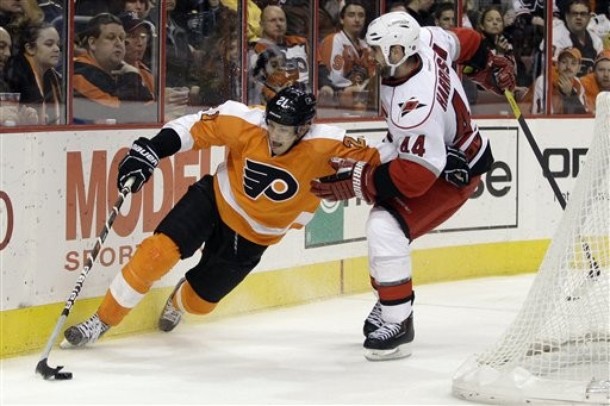 If the Flyers weren't sure how much James van Riemsdyk's presence means to the Bullies, they are after an embarrassing 2-0 loss to the New York Rangers. The Jersey native didn't play in the contest which made Matt Read and Daniel Briere seemingly invisible on the ice.
Van Riemsdyk is quietly on his way to having his best season (16 points in 20 games) and at 22-years-old is yet to reach his prime. The power forward shows distinct resemblances to Ryan Getzlaf and Brendon Shanahan, both of which had amazing speed and agility for their broad frames.
The Flyers' second line winger glides on the ice and uses his pure strength to hold pucks along the boards, which keeps the offensive zone and gives plays time to develop. His puck control, comparable to Jaromir Jagr, is a crucial part of Philly's strong-muscled power play.
Everybody figured this year would be the year Jimmy would break out, especially after scoring seven goals in Philadelphia's 11 playoff games last post-season. But everyone thought his success would be on the top line with Claude Giroux, not on the second with undrafted 26-year-old rookie Matt Read.
Read's explosion can be credited to line mates, van Riemsdyk and Daniel Briere, who have found the Bemidji State Beaver on the door steps for a slew of easy tap-ins. Briere and Read missed their partner during last Saturday's contest in which the two combined for only three shots on goal, one
missed shot and one give away. The former second overall pick's size is the glue that holds the Flyers' second line together because as seen this past weekend, without strong puck control, Laviolette's club can't handle an aggressive forecheck.
The passing aspect of JVR's game keeps defenders on their toes and his rocket of a slap shot is only comparable to a rubber missile with the potential of finding twine after every windup. The 22-year-old still has time to develop, but with his passing crisp and his shot growing stronger every year, he is becoming a very well-rounded player who will keep defenses modest and goalies on the edge of their skates.
The Flyers were also missing Jagr and Chris Pronger, which made them prone to the Rangers' relentless forecheck on the blue line. Size and physicality have always been Philadelphia's keys to success and after this shutout, the Flyers are crossing their fingers that Jagr, Pronger and JVR will be ready to turn the page for Friday's contest against the Ducks.