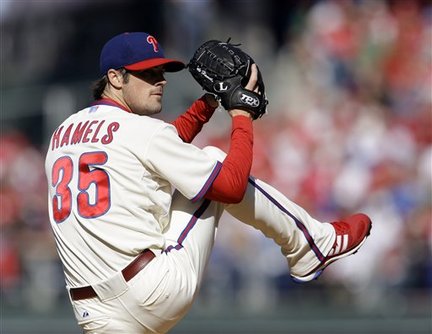 I am at work today and as usual not doing work. I was messing around on Twitter on my phone checking some "Hot Stove" action. Hot Stove! When I read a Tweet from Marshall Harris of CSN asking why Cole Hamels gets a bad rap and how he really does not understand why? Reason being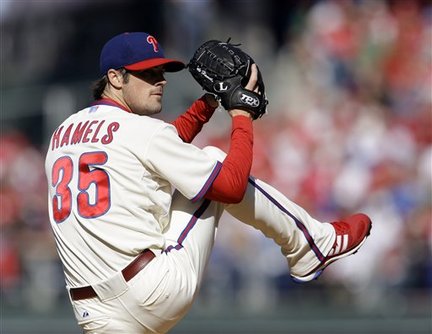 because as you probably heard all ready there were rumors of him being traded and Gio Gonzalez coming here. Do not get me wrong Gio is very good young pitcher but I am not trading Hamels.
So I start seeing these dumb reasons why people don't like Hamels. Shocking. Their was this one tweet though that really got me going.  This guy said " Hamels is Hollywood and Doc and Lee are working class guys". For the love of God! Can we please drop this label of Hamels not being a "Philly" type guy? To me it is total BS to say that anymore. Listen I get it, he said he wished that the season was over during the World Series against the Yankee's back in 2009. I wanted to put my foot up his butt to after that.
I know said he needs four days rest to pitch a couple of years back. He knew he would get some back lash from them comments he made. He said them in frustration and took the criticism from them right in stride. Never once coming out against us. Hopefully some of the Eagles will read this.(Jason Avant) What do we ever ask for here as a fan base? We look for honesty and toughness. Yes, we might not like what he said all the time. I will take his honesty any day of the week over all the "we got to do a better job" across the street.
I am sorry boys and girls, Hamels is tough. You can laugh all you want but the dude is. Just the past year he pitched with bone chips in his elbow half of the year and never once did he complain about it. Still he pitched six shut-out innings in the post-season.
How can I forget the way he led the Phillies to the title in 2008? The only title I have ever seen in my lifetime. I don't count the Sixers title in 1983 because I was three years old!
By winning us a ring he also picks up a World Series MVP. Yup, he is not tough. Man, I am just so tired of hearing that.  We have already built a statue of Cliff Lee. And Doc, well I am not going there. Doc is the man, plain and simple. Do not get me wrong I like Lee a lot. I just think to myself what has the guy really ever done for him to be put on a pedestal over Hamels here?
Out of them three pitchers Hamels should be the one on the pedestal. He was the one who delivered us from the wastelands. He stoped the 25 year drought. He is the one with the ring. I know it sounds as if I have a man "crush" on him. I really do not. Ok, maybe a little. That really is not the point. We have to drop this once and for all with Hamels. So he talks a little different than us, walks a little different and acts a little different. Who cares! The dude is a winner. And because of him we are winners. So in my final statement or rant or whatever you want to call it. Cole Hamels is a "Philly" guy. There I said it.