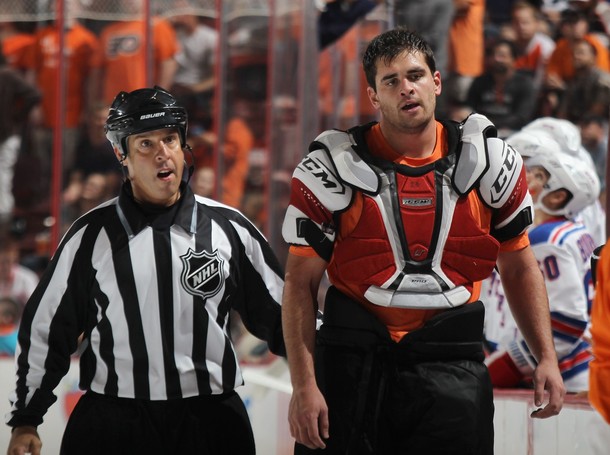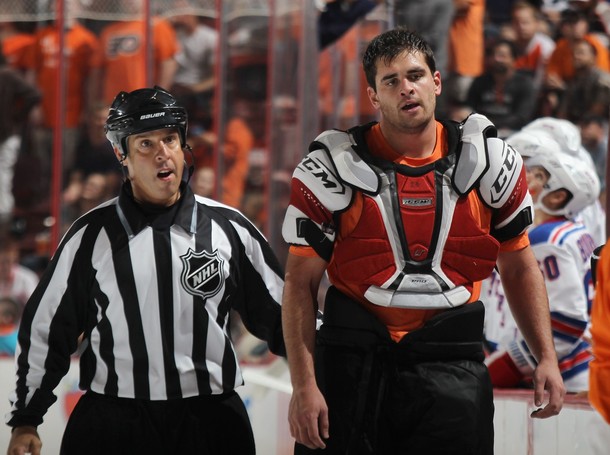 Dave Isaac of Philly Sports Daily reported at the beginning of the Flyers-Capitals game that Barry Hanrahan, assistant general manager for the Philadelphia Flyers, announced that the team would be recalling Phantom Tom Sestito.
In the short-term, Sestito still has to serve two more games from his four-game suspension during the preseason for boarding New York Rangers prospect Andre Deveaux.
Once his two games are up, if Brayden Schenn is not ready to jump back into the line-up, then it is likely that Sestito will remain with the team as the 13th forward.  The earliest he will be available to play is Saturday against the Boston Bruins, but unless another forward gets hurt in the meantime, he will be sitting comfortably in the press box.
Sestito has 8 goals and 14 points in 24 games this season, along with 95 penalty minutes.
While Sestito is a logical choice for a call-up, Ben Holmstrom (6 goals, 13 points) and Jason Akeson (7 goals, 19 points) are other candidates worthy of call-ups this season.  Eric Wellwood would be on that list, but he's currently out of the line-up with an upper body injury.
Mike Testwuide, a Phantom that the team had high expectations for when they signed him in 2010, has just 1 goal and 10 points in 22 games.   I have no idea what the team's expectations are for him now, but he's dropped off the depth chart considerably.  I've also given up any thought that the Flyers will ever recall Jon Kalinski again.
For the latest Flyers news and updates, you can follow me on twitter (@JoshJanet).