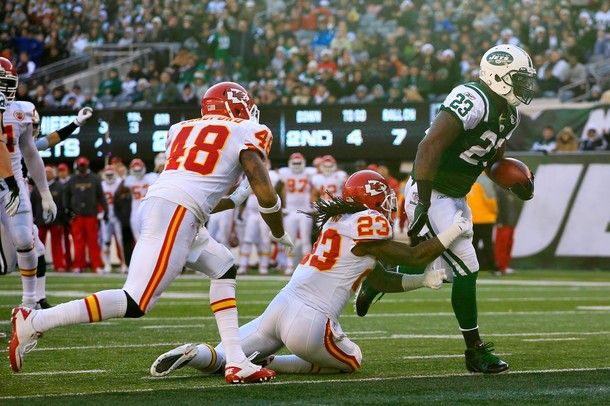 Despite an 8-5 record and holding the final wild card spot in the AFC, the New York Jets will bring an unremarkable offense to Lincoln Financial Field on Sunday.  Averaging 206.1 passing yards per game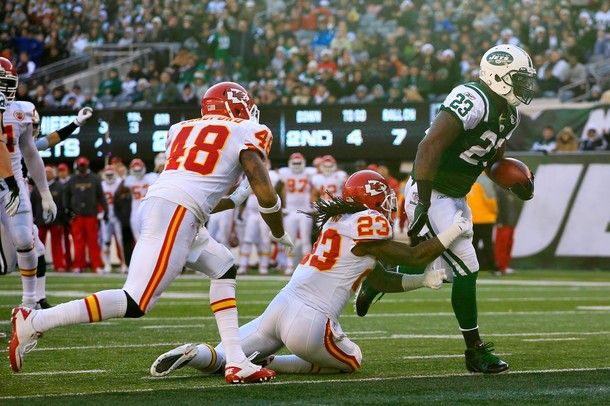 with 21 touchdowns and 11 interceptions in addition to 104.9 rushing yards per game and 13 touchdowns, the Jets offense is ranked 21st in the NFL in passing and 22nd in rushing.
Historically, the Jets have been a team that has relied on the run to set up the pass, but the dominance they once experienced on the ground has been lacking this year.  This is notwithstanding the fact that their leading rusher, Shonn Greene has already eclipsed his total rushing yards in a season and we are only entering week 15.
Greene, who set the University of Iowa record with 1,850 yards in his senior campaign, has benefited from the persistent rushing attack employed by the Jets, already compiling 22 more carriers than he had in any of his previous seasons.  Persistence, however, does not necessarily equal success (just ask the LeSean McCoy who rushed 27 times for 38 yards last week), as Greene only has 6 touchdowns on the season.
At quarterback, Mark Sanchez is not someone on whom the Jets prefer to rely to win them games.  Rather, their strategy has been to try and pound the ball to open up the passing attack in order to make things slightly easier on the 3rd year pro out of USC.   That, combined with the fact that many of the routes are short or intermediate, explains why even though Sanchez is averaging 32 pass attempts per game, he is averaging only 6.7 yards per attempt, which has contributed to his pedestrian quarterback rating of 83.1 thus far.  New York lacks a great deal of speed at the receiver position, where neither Santonio Holmes nor Plaxico Burress are significant downfield threats.
The Eagles defense has been far from consistent this year, but they have certainly stepped up at times.  Philadelphia's 12th ranked passing defense is allowing an average of 218.9 yards per game and has allowed 23 touchdowns while intercepting 12 passes.  Their much maligned rushing defense has shined at times and been hideous at others, resulting in them allowing 115.1 rushing yards per game, putting them 18th league-wide.  At this point, it is really just a crap shoot as to which Eagles defense is going to show up.  Is it the one that dominated the Cowboys and Dolphins, or will it be the group that was decimated by New England a host of others?
It is going to take an all out effort by an undersized Eagles defense to control the line of scrimmage and subsequently nullify a bruising Jets running game.  The New York rushing attack is one that utilizes a strong offensive line and tries to get their backs running downhill directly at defenders.  Due to their smaller stature, the Eagles defense has, at times, been known to have problems going against stronger, north and south style rushing opponents.  If the linebackers are not able to shed the blocks of the opposition's offensive line, a downhill running game can be a daunting task.  The wide 9 technique forces the defensive ends to come off of the ball at a wide angle in order to get to the quarterback quickly and relies upon linebackers to fill the inside gaps.  If those linebackers are unable to fill the gaps, the opponent can hit the opening and quickly end up in the defense's second level for a significant gain.
Philly needs to focus on stopping the relentless Jets running attack and put them into 2nd and 3rd down and long situations.  In those circumstances, the pressure is put squarely on the shoulders of a quarterback that has yet to prove himself as a "game-changer" in the NFL.  Getting pressure early and often on Sanchez has been proven to rattle him and force him to rush his progressions.  This will allow an effective Eagles rush to tee off with their heads down and focus on the pass rush, which, when they've been play well, has been the bread and butter of this group.  By pressuring an already shaky Sanchez, the Eagles defense can force him to make mistakes.
At that point, it is simply a matter of the defense taking advantage of those mistakes and turning them into points.  If the Philadelphia defense can force the Jets quarterback to make poor decisions and capitalize, it will put New York in a hole, forcing them to abandon the running attack and to put the ball in the hands of Sanchez.  No matter how poorly they have played at times this year, the Eagles defense should be able to control a pass-heavy Jets attack