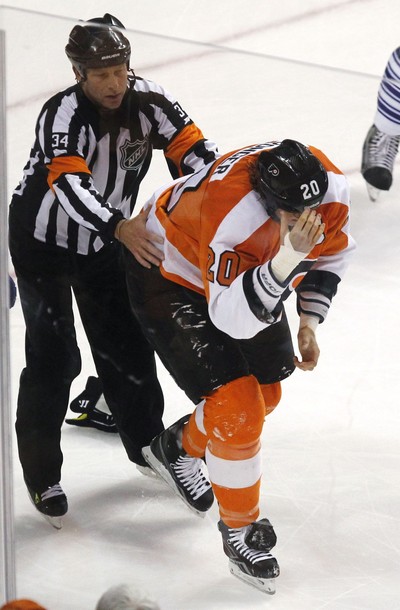 With the loss of Chris Pronger, Claude Giroux, and Sidney Crosby this week the state of Pennsylvania hockey has taken a major hit. Concussions have claimed all three superstars and their respective teams will need to find ways to play without them.
At the moment Crosby and Giroux are both out indefinitely and during Thursday night's Flyers game against the Canadians news of Pronger missing the entire regular season and playoffs came as quite a shock to the hockey world. This a huge loss not only for the Flyers and Penguins but for the entire hockey world.
Crosby is without a doubt the face of the NHL. He's grown into the same role Wayne Gretzky had during his playing days. As much as Flyer fans despise him for being a Penguin you can't deny he is a polarizing figure that brings a ton of excitement to the rink every night. In 8 games played this season he had 2 goals and 10 assists. I for one enjoy beating teams when at their best.
A victory over the cross state rival Penguins always feels good but knowing they are without their top player doesn't make it as gratifying. The Penguins will still be a playoff team this year and will be a force within the Eastern Conference but the fact is Crosby is a great player and his presence will be missed for a sport that is flourishing with young superstars.
Giroux and Pronger although are not the face of the sport like Crosby both are stars in this league. Giroux was having quite a season before he went down leading the league in points. He has 16 goals, 23 assists and 39 points so far this season with a plus 7.
He's without a doubt become the face of the Flyers franchise and the Flyers knew this when they
decided to move Mike Richards and Jeff Carter in the off season. Hopefully Giroux's concussion situation isn't as severe as Pronger and Crosby. Giroux like Crosby is young and is a nice piece to the stable of young superstars this league has to attract people to the game.
Pronger has been around for a while and this injury is just devastating for fans that watched him throughout his career. So far this season he's only registered 1 goal and 11 assists but he's been plagued by injuries all season. Pronger is an established veteran and has been in the league since the 1993 season. His career has spanned stops in Hartford, St. Louis, Edmonton, Anaheim, and Philadelphia.
He's now entering his third year as a Flyer and already it seems as if he's been here forever. It almost seems as if Pronger was made to be in the orange and black for his entire career and it's a shame he couldn't find his way to Philadelphia earlier in his career because unfortunately Flyer fans have been short changed so far with his playing time. If this injury is in fact the nail in the coffin for Prongers career he'll be remembered as one of the toughest defensemen to ever play the blue line.
The Flyers seem to have the depth to get by without Pronger as they've had the opportunity to get the younger defensemen valuable playing time. A trade will be made to bring in another veteran defenseman to fill the void left by Pronger but his presence will be missed. Hopefully this isn't how the ride ends for Pronger. The loss of Giroux will have a far greater impact if his situation plays out anything similar to Prongers. Giroux is the face of the team and the leader on offense.
They can survive his absence for a short period but over the long haul I don't think this team will make a long playoff run without Giroux. Obviously you want him to be 100% whenever he returns and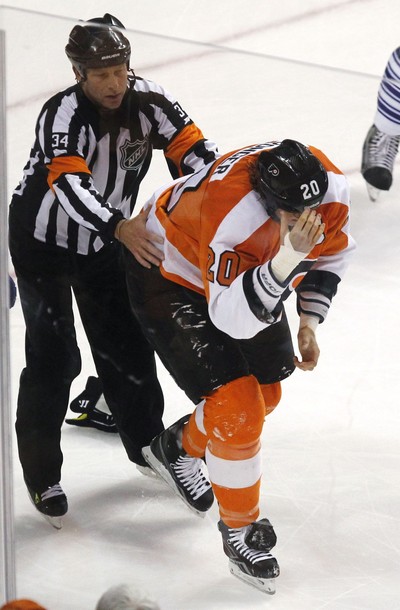 hopefully the team can sustain the play they currently are displaying for as long as possible but the fear of seeing the offense go into a goal scoring drought is a possibility without Giroux in the lineup for an extended period of time.
Concussions are becoming frequent in the keystone state when it comes to its hockey teams. The NHL will suffer as two of its premier players will no longer be available for the epic Winter Classic. The NHL needs to take steps to ensure players like this are safer on the ice. Whether its upgrading equipment or tweaking some of the rules of the game the bottom line is a league can't operate without showcasing its superstars. As much as Flyer fans hate Crosby the game is better off with him on the ice along with Giroux and Pronger.