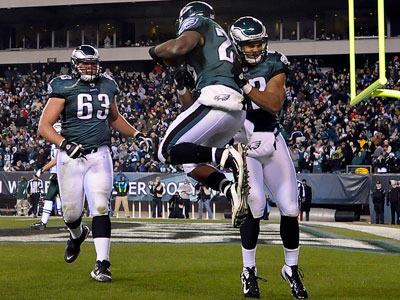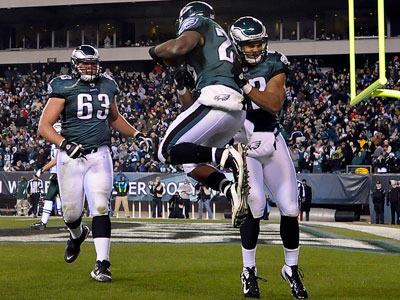 Coaching
– With today's win, Andy Reid has more than likely put an end to any doubts about whether or not he'll be returning next season. With the team flashing occasional greatness and showing signs of improvement, the front office won't feel any more inclined to make a change. They'll continue to show full confidence in Reid, and allow him to continue making key decisions for this football team.
– I still firmly believe that Reid should step down at the end of the season. If anything, the team's improved play should be a indictment on the coach. His failures early in the season have put this team into an awful position late in the season, and if he had thought better of some of his errors regarding the coaching staff and certain defensive positions, this team could easily have won a few more games and have a tight grasp on a playoff spot.
– Juan Castillo is now making a push to return next season as the defensive coordinator. His unit has been dominate in the last two weeks, and he should be given credit for some of the new blitz packages that have been implemented. However, in the last two weeks Castillo has had the luxury of managing the game with a comfortable lead. I have to believe that for the Eagles to seriously entertain the idea of bringing him back, he'll have to show them that he can get the defense to come up big in a tight game. I give Castillo credit for what he's done in the last two weeks, but I'm no more convinced now that he can be a legitimate NFL defensive coordinator than I was when he was first hired.
Offense
– Michael Vick played one of his better games of the season. He seemed to be comfortable in the pocket, and made some good throws while properly reading the defense. He finished the game with 274 yards passing, and scored two touchdowns, including his first rushing touchdown of the season. The veteran avoided ill-advised throws, and his only blemish in the game was a meaningless interception at the end of the first half.
– It was a special day for LeSean McCoy. The third-year running back scored three touchdowns, giving him 19 for the season. He surpassed Steve Van Buren's team record of 18, set in 1945. It's been a fantastic year for McCoy, who is beginning to be recognized as one of the great runners in the league.
– DeSean Jackson couldn't do much while being stuck on Revis Island. He was held to just two catches for 28 yards.
– While Jackson and Jeremy Maclin were being covered, the field opened up for Brent Celek. The tight end caught five passes for 156 yards and a touchdown. The Eagles have done a good job of restablishing him as an important part of this offense in 2011.
– The offensive line rebounded from a collective subpar effort in Miami with a good showing this week. They did a good job buying time for Vick to find open receivers, and creating running lanes for McCoy.
Defense
– A guy who has been a target of an unfair amount of criticism this season is Jason Babin. Critics have attacked Babin for being a one-dimensional player and a liability against the run. Guess what? Babin has been one of the brightest spots of the entire defensive unit. The Eagles knew what they were getting when they signed him in August, the pass rushing compliment that they've desperately needed for Trent Cole for years. He's been absolutely superb in his role, notching 18 sacks in 14 games is no easy feat for any player, no matter what scheme they're playing in. Give the man his due, he isn't part of this unit's problems.
– The cornerbacks played a strong game today.Well, with the exception of Asante Samuel's missed tackle on a third down in the final moments of a drive in the second quarter, the cornerbacks collectively played very well.
– Samuel had good coverage on a number of plays, and came up with an important interception that killed a New York drive in the redzone early in the game.
– Nnamdi Asomugha's name wasn't called very often today. He did a fine job taking Plaxico Burress (a player who has historically given the Eagles all kind of matchup problems) out of the game.
– Dominique Rodgers-Cromartie saw significant action in the second half when he was asked to fill in for an injured Samuel. He looked much more comfortable playing on the outside, and defended a pass that was tipped into Jamar Chaney's arms for an interception. It was DRC's best game as an Eagle, though that isn't saying much.
– I like that the Eagles haven't been trying to force DRC into the nickel role anymore. They wanted to find a way to put his talent on the field, but the former Cardinal just couldn't adjust to the role, and only ended up hurting himself and the team. They have a capable man for the job in Joselio Hanson, and having Rodgers-Cromartie take a step back and play within himself seems to have been the right course of action to take.
– Casey Matthews was in on a couple of plays in his nickel role once again. The rookie has had a rough year, and hasn't done himself any favors with his comments through the media, but its nice to see him show some signs of progress.
– I thought Kurt Coleman played a nice game. He broke up a pass in the endzone that was headed for Plaxico Burress in the first half. He wasn't overly aggressive, and didn't make major mistakes.
– Phillip Hunt has impressed in the last two games. The rookie was in on six tackles today, and also recorded a sack for the second straight week. His playing time will continue to rise.
Other Thoughts
– Too many turnovers, once again. The Eagles committed four turnovers (though only three were significant). Dion Lewis, Curtis Marsh, and LeSean McCoy all lost fumbles in the first half, creating opportunities for the Jets to get back into the game. New York ended the first half by scoring 13 straight points, which were partially fueled by the takeaways.
– The Eagles seem to have a good feel for how to attack the defense of the Ryan brothers. They scored 34 against Rob Ryan and the Cowboys in October, and 45 against Rex tonight, resulting in their only two home victories of the season. They'll get another crack at Rob next week.
– Reid's bonehead move of the week? Why in the world did he decide to have Vick drop back to pass late in the fourth quarter with a commanding lead? Vick ran for his life on the play, and before throwing the ball away took a crushing hit that he was slow to get up from. This team needs the franchise quarterback in top shape if they're going to win their final two games, why expose him to contact that late in a blowout? This isn't the first time that incidents like this have happened, and it astonishes me every time it does. Reid removed Vick and inserted Vince Young on the following drive.